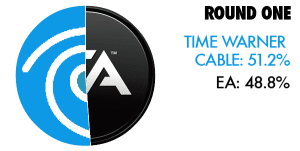 Remember when we told you it looked like EA might take home the prize of  'Worst Company in America' for the 3rd year in a row? Well, it looks like good news for them that they fell out of the running in round one. While they may have made some mistakes this year, it looks like there are some other companies who have people upset enough to bump them up in the rankings, sparing EA this year.
In the first round, Time Warner Cable beat EA with a 51.2% vs. 48.8% margin. It was a close one but as a TWC customer, I can't say I am surprised. In past years, I was a huge TWC fan but recent months have told a different story and now their impeding merge with Comcast just pushes them more negative territory.
In the narrowest margin of victory since 2011, when BP beat Bank of America for the WCIA by less than one percent, Time Warner Cable upset EA's attempt at a three-peat by eking out 51.2% of the vote.
So it looks like EA squeaked by just barely and they are out in the first round. This ends their two-year reign as Worst Company in America.
Did you vote? What do you think about EA being bumped out in round one by TWC?
If you want to keep following the story, here is what the brackets look like right now: