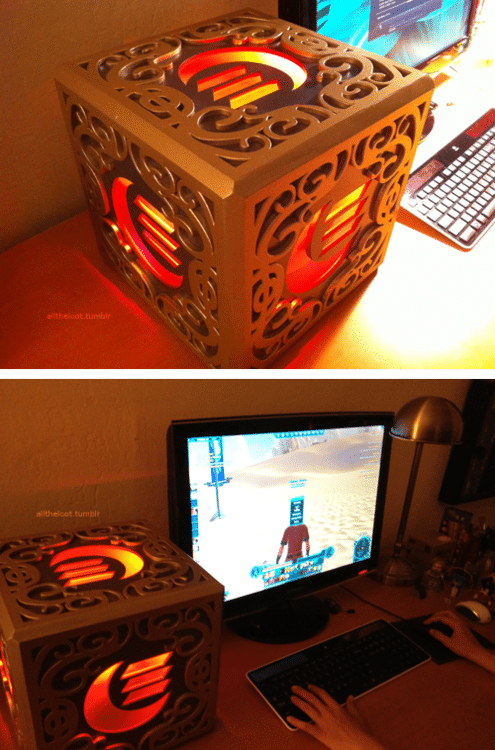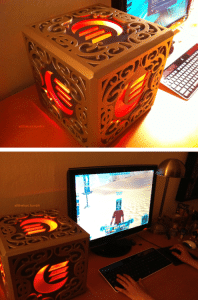 I love custom computer cases. I know most everyone thinks they are cool or could think of a custom case they would like to have but I have a real obsession with these. I am addicted to see what people can do with their computer cases and I have seen some of the most amazing cases you can imagine. There are those that are artistic, practical, water cooled, fish tank cases and more. But this one that we came across is one you're probably going to love as much as me.
This is a Holocron computer case mod. It's really awesome looking and they photo-logged how they did it on Tumblr so you can see the whole 21 day process for yourself.
Maxwell explains to Tumblr a little about what they were doing at the start of the project:
After this coming weekend, we will have more exciting progress to share! But for now, I thought it would be fun to give a little info on what we're building.
As you can see, it's a holocron computer case! Holocrons are supposed to be around 6" per side, but this one will be more like 12" to fit our primitive earthling technology 😛
We're making the case out of laser cut MDF panels, which in itself is pretty awesome. The cutter is amazing to see in action. After that we're using metallic spray paint to get the look we need.
The computer we're putting inside is going to be a modest gaming machine built on a microATX board.
This is really one of the most awesome computer cases and Star Wars themed computer builds I have ever seen. What do you think?
See all the photos here.