This week has seen a number of news releases from Bioware about the upcoming expansion, Rise of the Hutt Cartel, focusing specifically on details relating to making planet Makeb. As you might remember from previous posts, Makeb is the new planet included in the expansion and it's the main focus of the expanded story line.
Makeb promises some stunning views
Senior Environmental Artist, Michael Sheidow, used his developer update blog post to shed some light on the decision process behind creating Makeb. He was quick to point out that all graphics used for Makeb are brand new and exclusive to the planet. The new environment is a mix of a beautiful scenery that's being adversely affected by ecological disasters.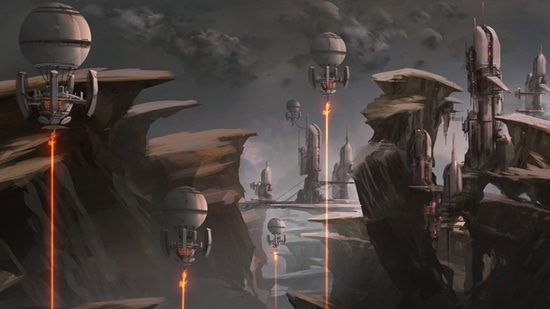 Makeb's problems were primarily created by the mindless mining of its valuable resources by the Hutts
Sheidow used a good portion of his post to describe how the expanded story line affected the visuals of the planet. Even though the planet offers astonishing visuals, Bioware's artists had to create various disaster zones in Makeb to fully convey the impact of the Hutt mining operations.
You can view additional screenshots and read more details about the Art of Makeb by visiting the official SWToR Developer Blog.