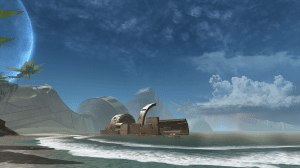 Rakata Prime might look scenic but it's certainly dangerous
Bioware recently released yet another developer blog post titled "Remnants"". The short story paves the way for the upcoming SWToR expansion and takes place at Rakata Prime. Its protagonist is a smuggler named Kaya who's "re-purposing" antiques out of the hands of planet natives and constantly runs into trouble.
It's not the first time that Rakata Prime has made its appearance in Star Wars universe and more specifically in a game. Knights of the Old Republic fans will remember Revan's path and his trip to the Rakata Prime (or "Unknown World" as it was called) in the later chapters of the game. Bioware has hinted that Rakata Prime will be included in the upcoming SWToR expansion.
You can read the full story here.