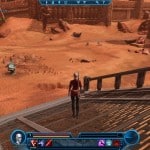 Reports claim that SWTOR loses 400,000 subscribers since February. Some will say that this is a good indication that the game is dropping and that players are losing interest. But is this really true and are these numbers a good indication of the popularity of the game?
It only makes sense that in the first few months of a game launch, there will be higher numbers as people try it out and share it with friends. Then the numbers will drop a little and balance back out as long term players continue to enjoy the game.
Attack of the Fanboy brings us an update:
Bioware's Star Wars: The Old Republic MMO has seen a drop-off in subscribers in recent months, to the tune of around 400,000 lost since February 2012. Earlier in the year, EA reported that roughly they had roughly 1.7 million subscribers in February, and yesterday reported that number had come down to around 1.3 million. SWTOR became available at the end of December 2011, and EA attributes the declines to a number of factors.
Lower numbers of trial players, and casual players that tried and decided not to subscribe, make up the two main reasons EA points to for the decline. EA is not alarmed by the drop, claiming that the MMO's numbers are in-line with projections from the company.
As the report stated, EA is not too concerned with the drop in numbers. And really, 400,000 is not that large of a number when you look at the overall reports and projections from the company. What do you think? Are these numbers of 400,000 dropped any indication of where the game will go in the future or is it nothing to worry about at all?