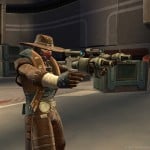 Today we have another build form the guys over at www.swtorsavior.com and continuing the trend of builds for 1.2 that will help you if you need a hand leveling up fast.
This one is for the Smuggler and the Gunsliner advanced class.
Here is the build:
SWTOR Smuggler Gunslinger Leveling Build:
Here are some rotations you can use with the build:
Your best bet on a companion with this build is Corso Riggs or Bowdaar.
Here is the rotation to use from level 10-20:
Aimed Shot > Sabotage Charge > Vital Shot > Charged Burst > Flurry of Bolts
At level 20 you will get a skill named Shock Charge and your rotation to use is:
Aimed Shot > Sabotage Charge > Shock Charge > Vital Shot > Charged Burst > Flurry of Bolts
Lastly at level 40 you will get a skill called Incendiary Grenade and at that point your build will change to:
Aimed Shot > Sabotage Charge > Incendiary Grenade* > Shock Charge > Vital Shot > Charged Burst > Flurry of Bolts
Of course if you are looking for a full set of leveling, PVP builds and a complete leveling guide with a community forum you need to check outwww.swtorsavior.com