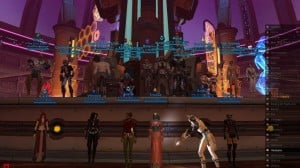 A very unique MMORPG event was held recently on The Harbringer server by Force in Balance guild- a SWTOR fashion show. It sounds like it was a lot of fun and I definitely want to know when they're doing it again so I can try to pop on and visit.
The leadership gave thanks where credit was due:
*Huge thanks go out to the ladies of <Force in Balance> for putting on such an exciting event:
-Vesayla -Lylah -Six -Tresse -Avelie
*Here's a shoutout to Nytraz for FRAPS-ing and Omer for DJ-ing.
*And a huge and special thanks to Dulfy for serving as one of our guest judges!
*Congratulations to Mr. Force in Balance 2013, Rengi!
*Over 30 guild members attended this exciting event; we're looking forward to putting on another show in the future.
The first event was guild-only but due to the popularity, they plan future shows with non-guidlies invited to both participate and attend.
You can see some of it for yourself here: