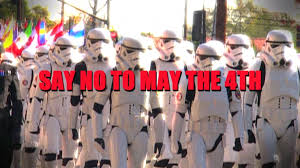 Hello folks! It's almost that time of year again- the 4th of May. The day that we celebrate our love of Star Wars on National Star Wars Day. Some people will celebrate at home alone with a big tub of popcorn watching the films. Others will celebrate with good friends and good food. Some may have a costume party host a costume party. No matter how you choose to celebrate, one thing is certain: this is a day for Star Wars fun.
Wookiepedia gives us some tips on how some fans celebrate this special day:
Typical festivities consist of inviting fellow Star Wars-obsessed friends to stay over, and then watching the series in succession. Lots of snacks, bring lightsabers and Star Wars-themed toys. Lightsaber fights in the early morning hours optional.
Star Wars Day Attack Ad: Say No to May the 4th
A special message that reveals the ugly truth about May the 4th, also known as Star Wars Day.