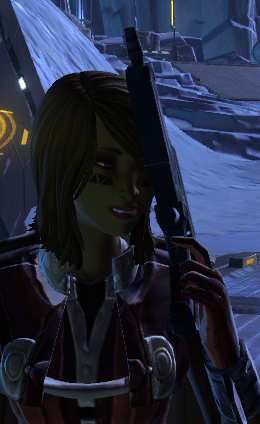 As Lisa wrote yesterday Game Update 1.6 is now on the public test servers.  It's really nice to see BioWare be true to their 6 week schedule. This also means that  you can expect 1.6 to be the last patch of 2012. Check out the patch notes below:
UPDATED 11/20/2012
The patch notes published for the Public Test Server are not final and are subject to change. Currently, only English notes are available, but French and German versions will be published when they are available.
Highlights
Ancient Hypergate, a new Warzone, is available for play! Travel to an ancient ruin built around a Gree Hypergate and battle to control the precious lost technology for your faction.
New incredibly challenging Weekly [HEROIC] Space Combat missions are available!
All new Grade 7 Artifact Quality Starship Upgrades are now available!
Group Finder
Added a new Level 50 "Introduction to Group Finder" mission to the Daily Mission Terminal on the Republic and Imperial Fleets. This will be granted when players complete the Advanced Gear mission for their Class.
Group Finder categories have been updated with tooltips that provide a recommended gear rating and an outline of the rewards available from the content.
Increased Black Hole Commendations awarded by Story Mode Operations in Group Finder from 5 to 10.
Items
Tionese gear available from the Tionese vendor no longer costs Tionese Crystals, and their commendation costs have been reduced for most items.
Ancient Artifact Storage Boxes can now be purchased for 25 Tionese Crystals from all Tionese vendors.
Missions and NPCs
Added a new Level 50 "Advanced Gear" mission for each Class to the Daily Mission Terminal on the Imperial and Republic Fleets.
UI
The tooltips for several currencies will now explain how they can be acquired and what they can be used to purchase. These currencies include: Tionese Commendations, Columi Commendations, Black Hole Commendations, Daily Commendations, and Tionese Crystals.
The Flashpoint Commendations category on the Currency Window has been renamed to Endgame Commendations. Daily Commendations will now appear under the Endgame Commendations category.