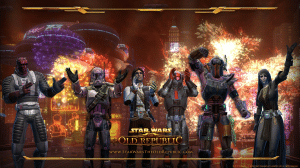 Dec 20, 2011 was the official launch of SWTOR and one year later, here we are! Happy Birthday to SWTOR, all the SWTOR dev/staff, and all the SWTOR players!
Can you believe it's been a year already? It seems like it was just yesterday that we were anxiously awaiting the game and while a lot has changed over the past year, we're happy the game is still around, happy the community is still here and happy to have all of our loyal readers still here as well.
Let's recap a few articles and news pieces over the past year:
Our Big List of SWTOR Guides
How Stuff Works column
There's also a cool SWTOR t-shirt giveaway here so check it out for your chance to win!
 Dulfy also has a giveaway:
Items that are part of the giveaway includes 40 SWTOR JINX shirts, 5 Cartel Coin codes, and 17 Tauntaun Fawn Codes. Learn more here.