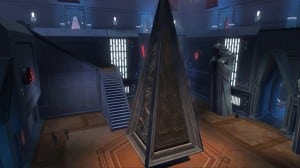 If you've played Sith in SWTOR, there's a good chance that like me, you wondered what that giant pyramid in the Sith Academy on Korriban says. It's written in Aurebesh and says:
Fear
Fear
Attracts
The Strong
The Weak
The Innocent
The Corrupt
Fear is my Ally
Fear is Power
Credit for the original translation goes to OmniMalev but if you ever want to figure things things out for yourself, there are some great tools to help you do so.
First, here is a chart showing the Aurebesh alphabet:
And you can find a really cool tool that lets you translate English to Aurebesh at Aurebesh SWTOR Tools. Unless, of course, you already know all the letters by heart!