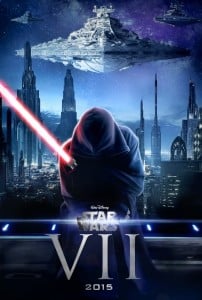 According to Lucasfilm's Kathleen Kennedy, filming onEpisode 7, the much-awaited Star Wars movie sequel, is about three weeks from being completed. Most of the footage is apparently done, and after the actual camerawork is finished, the movie will enter post-production, where the special effects, the sounds and the score shall be added, which will apparently take about another year to complete. Given that the above said announcement was made about a week ago at the Industrial Light and Magic Studio opening in London, it is safe to assume that the movie is indeed on track: great news for fans of the series as well as for the fans of the upcoming Battlefront title currently under production by DICE.
While the actual plot tie-ins between the Episode 7 and Battlefront will be few and far between, the release of the two titles will apparently be timed to more or less coincide, as this way, each will deliver an implicit publicity-boost for the other. Back in July, things didn't look nearly as rosy as they do currently: filming was suspended for two weeks due to an injury that Harrison Ford had suffered on set.
The production of the movies has obviously generated a great deal of public interest, but despite the best efforts of some of the fans, who even managed to capture a few telltale pictures of some of the props used via drones, the plot has remained under wraps, a feat which is indeed truly impressive in this day and age. Some leaks have happened though, although at this point in time it's quite impossible to verify just how accurate they are. Apparently, two of the new characters, those of Daisy Ridley and John Boyega, discover Luke Skywalker's severed hand in the opening stages of the film, and they decide to go looking for the Jedi master…
Phil Thalberg has been a Gosugamer since 2007. GosuGamers is the home of the best CSGO trading.