If you're reading SWToRStrategies.com you know that Dark Horse comics will be transferring its Star Wars license to Marvel at the end of this year. This development isn't stopping the publisher from releasing great deals on existing Star Wars publications.
Their latest offering is a Star Wars humble bundle that allows fans to purchase comics as cheap as $1. More interestingly, you can get all 11 issues of "Star Wars: The Old Republic Blood of the Empire" for a little over $10 and 7 issues of "Knights of The Old Republic : Volume 1" for the same price!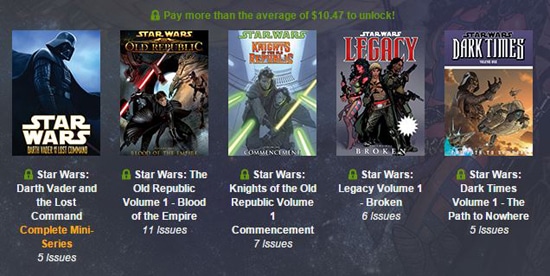 Some of the titles offered through Dark Horse's Humble Bundle!
The deal expires at the end of this month (10/29/2014) so if you're a Star Wars, SWToR or KoToR fan – now is your chance to get a hold of tons of comics for very little money!