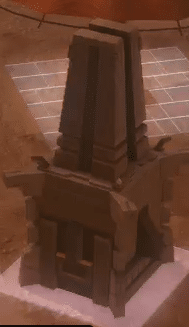 The decoration that has been missing since the release of Star Wars: The old Republic: strongholds – the Voss Shrine Sculpturewill be available in patch 3.3 from the reputation vendor:
"Voss Shrine Sculpture" is it in game? | 06.05.2015, 03:23 PM
Originally Posted by Ulytau

This item is seen on decors list as an achievement reward so i searched all achievements i can see in the game but i was able to see this particular piece as a reward for any of them. Will there be an hint on how to get it?
Hey Ulytau,
I got some information on this from the team, and here are the details… The Voss Shrine Sculpture is incorrectly listed as coming from an achievement currently in the game. Here is the plan on where you can find it and how to get it:
The Voss Shrine Sculpture will be available on the Voss Reputation vendor.
The Sculpture will require Champion status to purchase.
It will cost two Universal Prefabs to purchase.
This is likely to go into the game in Game Update 3.3 (I can confirm when we get closer).
Thank you for bringing this to our attention!
-eric