EDIT. If you are looking for trail accounts, or you have one to give away, go to our forum and share/request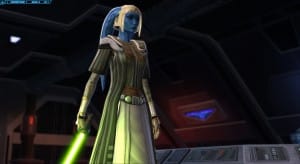 I was super excited to hear we were going to get friend invites for SWTOR. Then once I saw it was limited to three, I was a bit bummed. There were so many people I wanted to give invites to- my mother wanted to try it, my sister, some gamer friends online, other relatives… how would I choose who would get my three?
Well, BioWare really wants people to try out this game because they have now released the news that they will up that count to 25. Are you ready? Start inviting friends!
Electronic Arts is awfully keen for you to try Star Wars: The Old Republic. After holding several free trial weekends, BioWare's midichlorian-powered MMORPG has now doled out heaps more friend trial invites to every player, going from a limit of three to a whopping 25.

As before, the Friends Trial lets your chums play for seven days, playing through the starting worlds and trying all the classes, capped to level 15. Only now you can invite 25 people. Invites used before this do count towards that total, though.
So who are you going to invite?