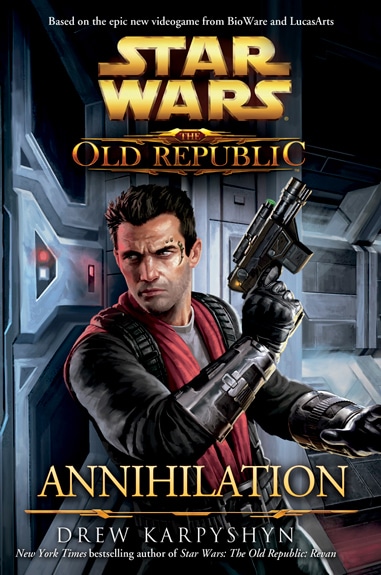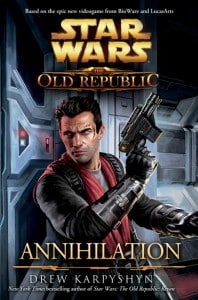 Drew Karpyshyn  gives some input on the Disney buyout of Lucasfilm over on his blog and he talks to us about Annihilation deets and why you should pre-order it through his official website (more $$$ for Drew ).
When asked how he thinks the buyout will affect the Star Wars books, games and more, he replied:
Honestly, I have no idea. It may have almost zero impact. It may have a huge impact. More likely it will fall somewhere in between. Disney says they want to make more movies; as a fan I think more SW films is probably a good thing. But beyond that, I'm in wait and see mode just like everyone else.
But when it comes to the upcoming release of Star Wars: Annihilation, Drew had many great things to say:
I've just updated my Novels page with some more info about the book and why I think it's my best SW novel so far. You can also get a glimpse at several random pages/blurbs over at the Random House website.
He tells us that it is coming very soon and you can pre-order already. While he's appreciative of anyone buying his books from anywhere, he also tells us why it benefits him to buy directly from his website (as a fellow writer, I definitely understand):
But if you buy it by clicking through the links on my website, instead of going directly to Amazon or wherever, then I get a small referral fee. It's not much, but it makes a difference.
Why is it he gets more money when you buy directly? Well, Drew breaks it down and explains to non-writers how the whole process works:
As an author, artist or other creator, you usually don't get a huge amount whenever your mass produced book, song or album is purchased. I'm not complaining – Amazon and iTunes and on-line sales have opened up a huge potential market for folks like me, and I appreciate it. But typically an author only gets a royalty of a few pennies – or a dollar or two if they're lucky – for every copy of each book that gets sold. The rest goes to the publisher and retailer… that's fair – they put up all the expenses and incur the risk.
However, if you take the time and effort to buy the book through a link on the website of the author, they can get double or even triple the amount they'd otherwise get. Obviously, in my line of work I fully support doing everything possible to support authors, artists and other creative types.
I really love Drew for his honestly and explaining this to people because there are so many who just don't realize this. Even popular books don't earn the author as much as people seem to think they do.
Another great reason I love Drew? He's a fellow Spurs fan.
Next update November 10
You can order any of Drew's books from his the Novels page.