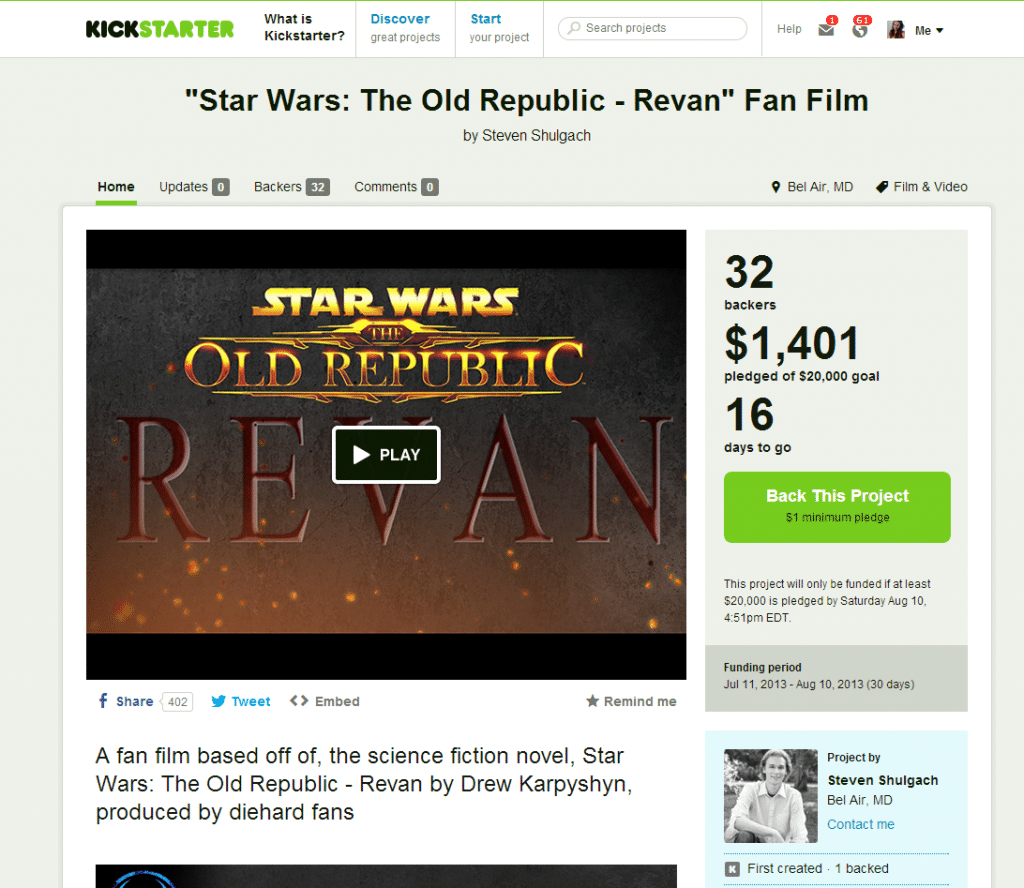 Project Revan is the combined efforts of a group of serious and talented young adults, creating the (unofficial) Star Wars independent film based off the book, Star Wars – The Old Republic: Revan by Drew Karpyshyn.
We have a really exciting Kickstarter campaign to share with you. Project Revan is a fan film based on the science fiction novel, Star Wars: The Old Republic – Revan by Drew Karpyshyn. This is produced by diehard fans of Revan. It's a live adaptation and you can help make it happen and even be a part of it if you wish to donate to their campaign. You can see videos and full details on the campaign itself of the project and also how you can be involved.
The Kickstarter campaign does a great job of explaining everything in full detail but here is a piece of it:
We have contacted Lucas Arts, and BioWare, for legal consent and permission to use the book's content as our guide for story boarding. Having done so, we have also contacted Drew Karpyshyn, the author of the book, for official rights to carry out the production of this film.
This is a non-profit fan film – Limitless Productions LLC is a non-profit company.
A majority of the members of Project Revan have several years of experience in theater, filming, visual effects and production. Steven Shulgach, and Andrei Shulgach are both involved in the YouTube partnership, creating regular videos on a monthly basis.
See the Kickstarter project yourself here: Project Revan
They also have information about the team to help you know who is behind the project you would be backing:
Steven Shulgach – A young and passionate film maker of the YouTube community, Steven's talents and three years of experience, reflect in his visual effects work and as a cinematographer. As the director of photography and editor of this film, he finds new ways to challenge himself, supports his passion by pushing the limits to produce quality work to the best of his abilities.
Andrei Shulgach – Young but talented, Andrei is using his past experiences in sound design and in the YouTube partnership program to the big screen. Aside from sound, he contributes to the project as the main graphics design artist and the assistant director to make sure that he is always pushing his creativity's potential. With his extreme dedication, he will not stop until his work reaches a professional quality.
Jonathan Shulgach – To create a motion picture of the size this team is shooting for, the work behind it all goes directly to the producer: Jonathan has spent countless hours preparing for each day in production. He shows his passion and enthusiasm in this film in his work, creating quality costumes, props, and devoting all the time he puts in this project. Jonathan is as professional as a young producer can get.
David Barnett – A young but enthusiastic individual, who, as the founder of this project, sees the potential in his work. David has initialized the project, bringing it up to speed, and motivated the team to get the film where it is now. He reflects his talents in the screenplay and actor support in the film. Without David, this film wouldn't exist.
Social Media:
Website! : http://www.projectrevan.com
YouTube Channel: We have an official YouTube channel for the project, in which you can subscribe here, and check out the latest teaser trailer and B-roll (Behind the Scenes) footage of our movie!
Twitter and Instagram: You can keep up with the project by following us on Twitter by clicking here, and checking us out on Instagram (projectrevan)!
Facebook Page: Like our page on Facebook, here.