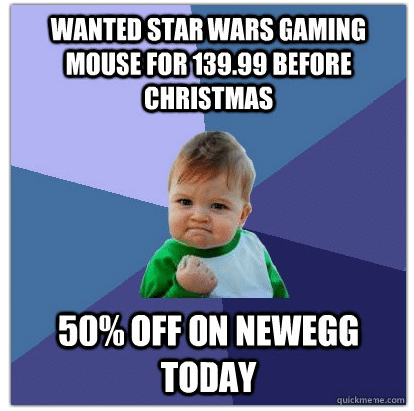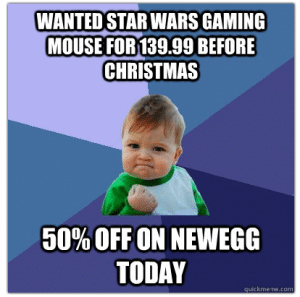 Yesterday there was a great sale on the Razer SWTOR Mouse and before we could even tell you about it- it was over! It was the daily ShellShocker deal at 50% off and only $65. But if you missed that, you still have a chance to get this mouse and save some money.
Don't worry- it's still on sale!
Here on NewEgg (but we don't know for how long) you can get it for only $96. That is still $43 off the original price.
You can get this awesome mouse from Razer with a SWTOR theme for a low, low price. For $100, any Razer mouse is worth it. I'm a big fan of Razer products for gaming and work. I currently use the DeathStalker keyboard and Naga mouse and they are fantastic!
I am at the computer all day- both for gaming and work – and this equipment is comfortable, functional and lasts a long time with frequent use. Now if you're a SWTOR fan, you can get this special edition. It comes wired or wireless (whichever you prefer) and has 17 programmable buttons.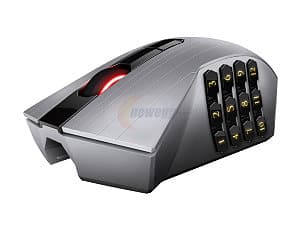 More features from the Newegg description:
17 MMO-Optimized buttons
Reign supreme in the far reaches of the galaxy with the Star Wars: The Old Republic Gaming Mouse by Razer featuring 17 buttons for effortless destruction and more skills at your disposal. The Razer driver software allows easy organization and absolute freedom to remap key binds, character abilities, and macros to all the buttons to keep you on top of your game.
Dual mode wired/wireless technology
Wield the Star Wars: The Old Republic Gaming Mouse by Razer like a lightsaber; with precision and complete freedom of movement thanks to its gaming-grade wireless technology. Get unwired performance as responsive and accurate as when wired thanks to Razer-grade ultra-low latency. Then when it's time to charge, switch the mouse to wired mode and keep fighting until you're the last one standing.
Interchangeable faction emblems
The world of Star Wars: The Old Republic is expansive and fraught with danger, so choose a side and team up to take on the galaxy. With interchangeable resplendent gold-backlit Sith Empire and Galactic Republic faction emblems, your gaming mouse is the perfect symbol of your allegiance.