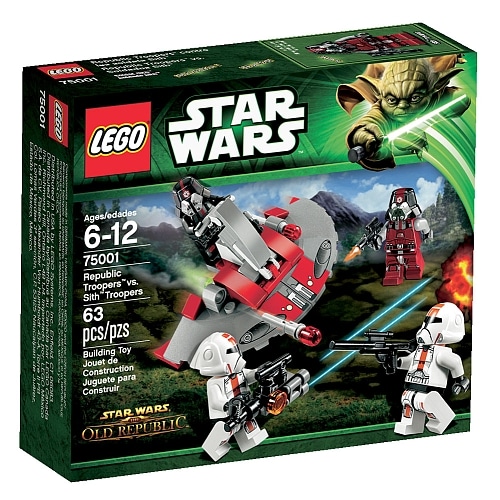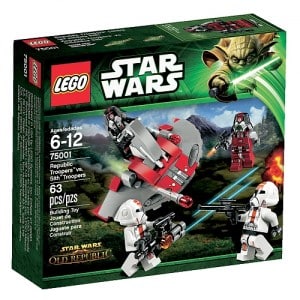 If you've been waiting to see the new Lego Star Wars series for 2013, you won't have to wait much longer. One set is already out and there should be more to come. This one is now available at Toys R Us and other LEGO dealers.
LEGO Star Wars – Republic Troopers vs Sith Troopers (75001)
Available at Toys R Us for $15.99. I think I'll be heading out today to try to get a couple of sets if they have them available in my local store.
Product Description
The Republic troopers are under attack! Fire their blasters as you battle the red and black Sith troopers and their hover speeder with dual flick missiles! Recreate epic battle scenes from the Knights of the Old Republic video game in your own living room! Collect the never-before-featured Republic trooper helmet! Includes 4 minifigures with assorted weapons: 2 Republic troopers and 2 Sith troopers.
Help the Republic troopers to fend off the Sith troopers!
Battle the redesigned Republic troopers with blasters against the Sith troopers on their Sith hover speeder with dual flick missiles!
Includes 4 minifigures with assorted weapons: 2 Republic troopers and 2 Sith troopers
Features hovering Sith speeder with dual flick missiles
Weapons include a blaster pistol, blaster, blaster rifle and a heavy gun
Here's a video review of this set so you can see it in action:
https://youtube.com/watch?v=KI7sghcP0W