The reboot of the Star Wars franchise by Disney brought fans a number of exciting and unexpected news. Obviously, the announcement of a new Star Wars movie trilogy that reunites the original movie cast was a dream come true for everyone. At the same time though, the restart of the Star Wars lore was somewhat of a surprise.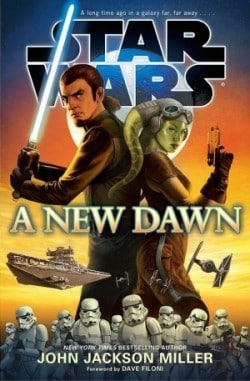 The cover of Star Wars, A New Dawn
Redefining well-known stories and transitioning every other pre-Disney story under the legacy banner certainly makes sense for Disney. It allows the company to shape the look and the feel of Star Wars while retaining the soul of the franchise. We are about to witness the first labor of Disney's effort with the release of the novel "Star Wars, A New Dawn". The book sets the stage for the upcoming Star Wars: Rebels animated series that's set to air later this year.
The soundclip below is narrated by Vanessa Marshall who's also playing Hera Syndulla in the animated series.
https://soundcloud.com/entertainmentweekly/star-wars-a-new-dawn-vanessa-marshall