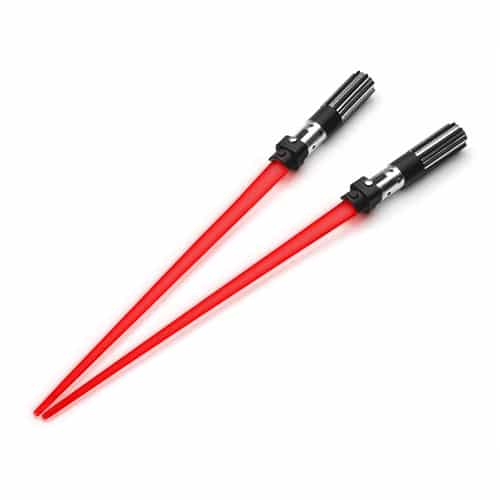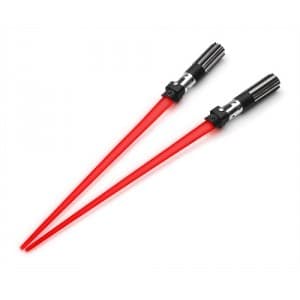 How much cooler can you get than Light Up Lightsaber chopsticks? This is another great product we received from ThinkGeek.com for review and this is the one I had to try to hide from my kids the hardest. I mean, what kid doesn't want mini lightsabers? Too bad for them, this was my toy! I was super excited to get them out of the packaging and find something noodly or rice-based to fully enjoy the experience. If you do choose to actually eat with them, the clear sticks are removable for easy washing.
The assembly was the hardest part of these. The parts are tiny, the batteries (included) are even tinier and I spent quite some time trying to get them to go into the spring-loaded battery area. This is definitely not for small children! However, once I managed to get the batteries into the handle and close them up, I was ready to try them out. You press the little buttons on the slide-off stick handle and your chops light up just like you see above. I was impressed with the brightness of the glow. Again, the only real downside is that those batteries were a pain to get in.
I don't think I'll be eating with them anymore as I like them much more as a collectible item but they are sure a fun item to bring out at parties, too. This would make a great gift for the Star Wars fan in your life.
Chopsticks that light up and look like lightsabers
Choose Luke (blue) or Vader (red)
Push-button light-up action
I got the red Vader versions for review but there is also a blue Luke version. Learn more or buy your own here.