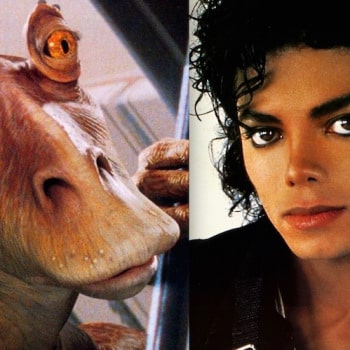 Michael Jackson wanted to play the Star Wars character Jar Jar Binks, however George Lucas denied him the part. His reason for denying the pop star was because he "wanted to do it in prosthetics and makeup like 'Thriller'".
Michael Jackson was known as the "King of Pop" and he reportedly told George Lucas that he wanted to play the goofy Gungan Jar Jar Binks, which is one of the most despised characters in film history. The character appeared in the 1999 blockbuster hit, Star Wars: Episode I: The Phantom Menance. Ahmed Best voiced and provided the motion capture for Jar Jar Binks' character, explained the interest that Michael Jackson had during an interview with Vice.
"Me, Natalie Portman and George [Lucas]'s kids – we were at Wembley arena at Michael Jackson's concert," Best said. "We were taken backstage, and we met Michael. There was Michael and Lisa Marie [Presley]. George introduced me as 'Jar Jar,' and I was like, 'That's kind of weird.' Michael was like, 'Oh. OK.' I thought, 'What is going on? After Michael had driven off, we all go back up to a big after-party. I'm having a drink with George, and I said, 'Why did you introduce me as Jar Jar?' He said, 'Well, Michael wanted to do the part, but he wanted to do it in prosthetics and makeup like Thriller. George wanted to do it in CGI. My guess is ultimately Michael Jackson would have been bigger than the movie, and I don't think he wanted that."
In the long run, the casting worked out better for Michael Jackson. Jar Jar was panned by critics after the film's release and this inspired fan vitriol that still has not died down after 16 years. Best explained to Vice that he has accepted the character's outcast status and he also understands why Jar Jar's importance died down during the two subsequent Star Wars films.
"At the end of the day, it is the movie business, and if the character doesn't work for the people who watch the movie, then the character doesn't work," he said. "I can't take that personally. It's up to the filmmaker to make sure that not only does the film work for the filmmaker but it also works for the audience. So, because he wasn't a fan favorite, I can understand why he was scaled back. And, narratively, they moved on to something else. There's really no room in Revenge of the Sith for him; that was a very dark story. There was nothing about it that needed to be comedic, which was Jar Jar's whole purpose. Jar Jar's whole purpose was to bring light and levity. By that time, there was none."
Via Rolling Stone