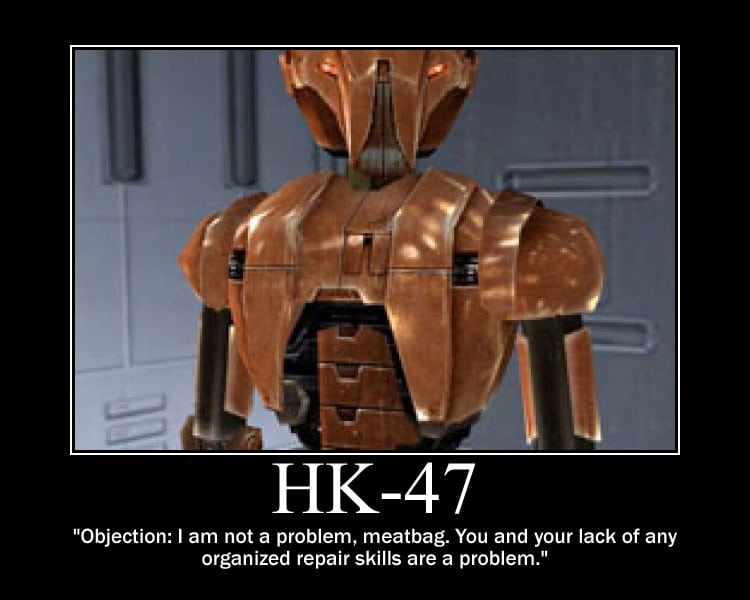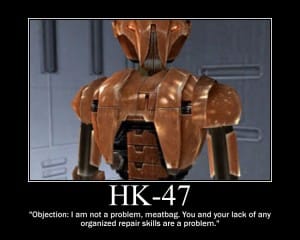 The arrival of HK-47 has been hinted at since PAX 2010, when a SWTOR teaser video had a HK-series droid saying "Interjection: Silence Meatbags" and he's since appeared in the Foundry Flashpoint. The new 1.3 patch notes have also confirmed that a new companion for all classes is arriving, an HK-51 droid, based on 47's model. With the forthcoming return of the HK-series droids to Star Wars: The Old Republic, we thought it was time for a look back to the origin of the product line. (More spoilers than a modded car show, watch out.)  
If you're a big fan of HK-47, you're going to be happy to hear the news that a new droid companion is coming to SWTOR. He's such a fun droid who has real issues with "meatbags" and PCGamesN has decided to take this time to look back on the HK-series of droids and their history.
They outline the history of HK-47 in a fun article. Here are the highlights:
In closing:
Though 47's creator Drew Karpyshyn has left his post of Head Writer at Bioware, I have high hopes that the team can resurrect the irredeemable black comedy of HK-47 for SWTOR. As made clear in the intro, it's not known yet whether we'll just have an HK-51 companion, or a resurrection of 47 again in SWTOR. Given that we know 47 canonically survives into the time of Luke Skywalker and given that his fate is inherently bound up with that of Revan himself, 47's presence means that SWTOR could tie up the loose ends of the first KOTOR, beyond Revan's disappearance in the Foundry Flashpoint. This meatbag will be there to see it.  
I have to agree with Dan Griliopoulos; I feel confident the writers at BioWare are going to do a great job of bringing the spirit of the 47-series droids in to SWTOR. It will also be great to see where they go with the tie-ins to the storyline. I'm interested in seeing where and how this will play out.
What about you?