There is amazing and exciting news for major Star Wars fans. Star Wars is proud to present to the public the official Star Wars app.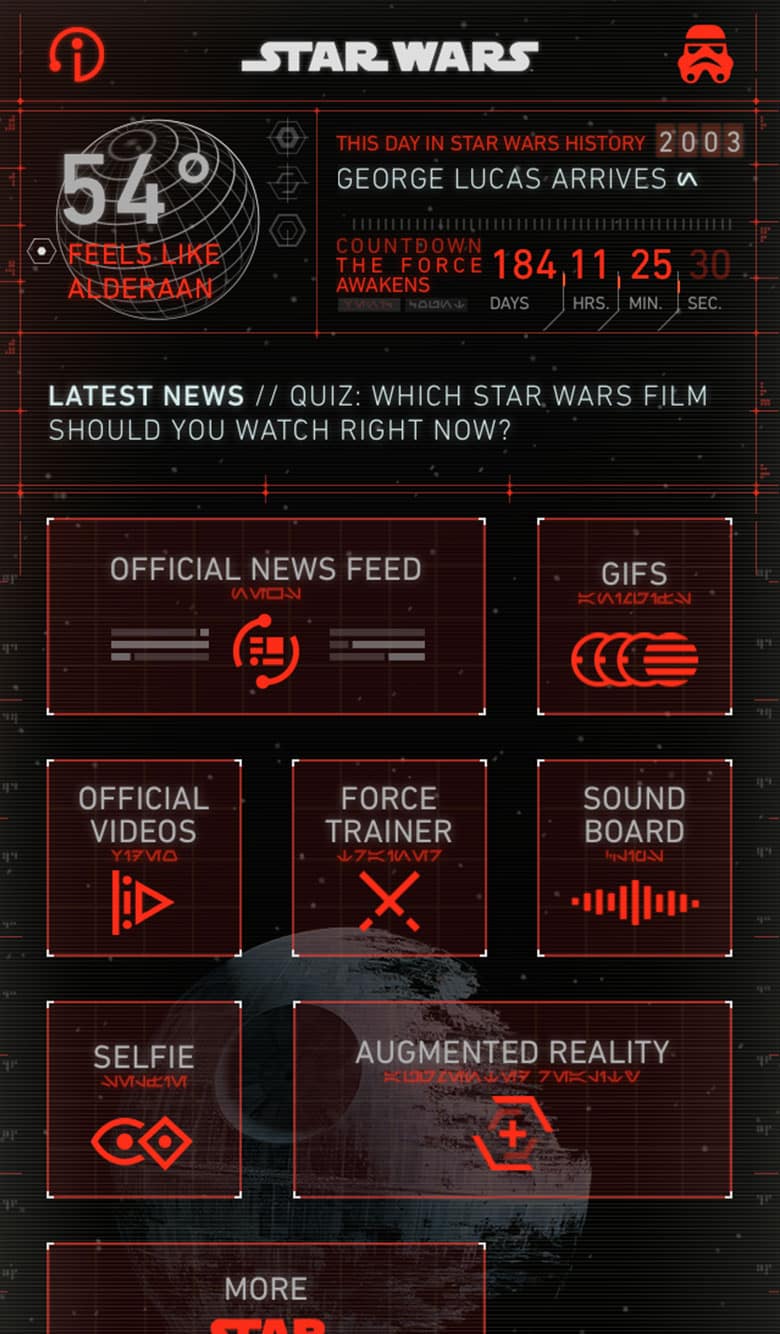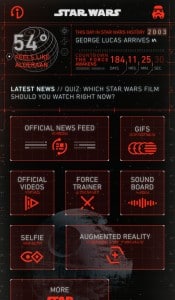 It's now available for those who use iOS and Android devices and it has some amazing features and great games, all in a Star Wars universe. After you download the app you will be able to enjoy the following:
Get instant notifications on big announcements, including trailer releases and movie news
Theme your app with Light Side, Dark Side, or Droid interfaces, each containing different designs, sounds, and animations
Unlock 3D characters from Star Wars: The Force Awakens using a special Augmented Reality camera feature
Take and share a Star Wars "selfie" in various iconic costumes and settings, including Jedi, Princess Leia (with hair buns), Han Solo's carbon freeze, and more
Get Star Wars-themed weather and five-day forecasts, featuring original art and parallax effects of in-universe planets and locales
Wield a lightsaber and hone your skills against a training remote, as seen in Star Wars: A New Hope
Share animated GIFs with your friends and family of memorable scenes and characters from the Star Wars movies and TV shows, including Star Wars: The Force Awakens and Star Wars Rebels
Discover behind-the-scenes fun facts with This Day In Star Wars History
Play classic sound clips and sound effects from your favorite Star Wars characters, creatures, weapons, and scenes
Get quick updates with a snapshot news ticker
Count down to major releases like Star Wars: The Force Awakens and Star Wars: Episode VIII with an always-running timer
Sign up for Star Wars ID and join the growing Star Wars fan community; choose an avatar and create your own handle
Read official Star Wars news and blogs from StarWars.com, as well as app-exclusive content, including the latest on Star Wars: The Force Awakens, creator interviews, and more
Follow official Star Wars social channels via aggregated, customizable feeds from Facebook, Instagram, YouTube, Tumblr, Google+, and Twitter
Watch official Star Wars videos, including movie trailers, behind-the-scenes featurettes, and more
Discover the latest Star Wars digital apps, products, and experiences from one central hub
Let us know your thoughts about this super cool app below.