Unless you've been living under a rock, you know that Star Wars is hot right now. The new films have created a surge in the franchise's popularity and we're seeing Star Wars everywhere. This can be a good thing for the Star Wars fan but can it go too far? While buying groceries this past week, I noticed all the Star Wars branded foods. This is typical of cereals and snack foods, more than anything else, at least here in the US. I saw Star Wars cereals, yogurt, Cambell's soup cans, and even Cheez-Its with Yoda on the front. They're on Pringles cans and ice cream, and even coffee creamers.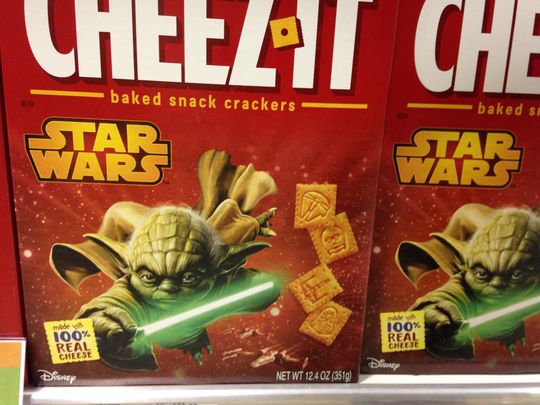 But the Star Wars craze doesn't end with food. Of course, there are toys and clothes. This is to be expected. However, there has also been Star Wars makeup and now, we have Star Wars perfume.
Yes. Star Wars perfume.
I'll let that sink in for a moment.
Now you can smell like the Force wherever you go. Or something like that. We're not really sure what a Jedi smells like or how they managed to capture and bottle it but now, you too can smell like Star Wars!
European perfume company Lifestyle Perfumes has released their Star Wars line of scents which includes two colognes for men and one perfume for women (what, we ladies only get one option?). According to the website, the colognes are called "Empire" and "Jedi," and the female fragrance is called Amidala. "Amidala inspired this fragrance through her royal elegance as well as her strong, indomitable will. The elegant and sensual notes of vanilla, musk, and patchouli are complemented by a fruity top note of apple and tangerine and merges into a sovereign seductive aura for any situation by day and by night," according to the description.
So what do you think about Star Wars themed perfume and cologne? Have we taken this craze of branded merchandise too far?