To Celebrate May the 4th, BioWare is giving away a pet droid:
In honor of the upcoming Star Wars™ Day on May 4th and to show our appreciation for all of our players in a galaxy far, far away, we're celebrating by giving players the M4-Y8 Astromech Droid Mini-pet! This sleek Astromech model is the perfect ally to accompany you across the galaxy. Additionally, throughout the week there will be special sales for the Cartel Maret.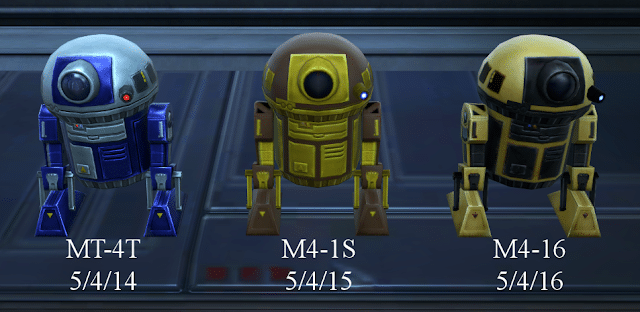 Log-in Bonus
Log in by May 6th to receive your very own M4-Y8 Astromech Droid! Your new Astromech Droid will be waiting in your in-game mailbox by May 10th, 2019.
During the period of April 29th to May 6th, there will be special sales happening on the Cartel Market!