Due to player feedback, BioWare pushed the release date the upcomming Onslaught Expansion for Star Wars: The old Republic. The new relese date is October 22, 2019.
We know you have all been eagerly awaiting to hear when we plan to release our Onslaught expansion. The feedback from our Public Test Server (PTS), along with the data from our internal play tests showed us we need more time. We haven't released all the changes to PTS, and we want time to make adjustments based on your insight. It was a difficult decision but with our commitment to delivering you a quality experience, we've decided to push the release date for our new expansion to October 22, 2019.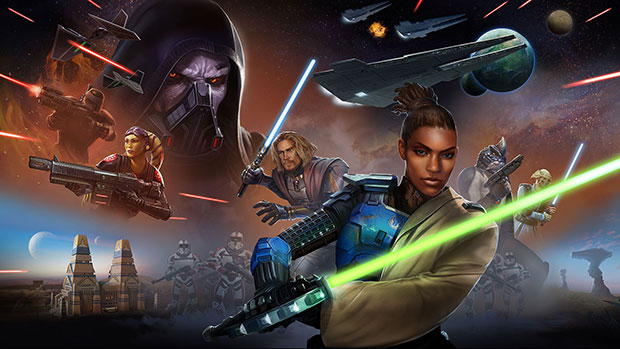 We have been gathering your feedback both in and out of game since late June and we have already made sweeping changes to a number of systems, especially Spoils of War. Our new Operation, Dxun, should be ready for testing in a few weeks, and we're making significant adjustments to set bonuses, tacticals, and amplifiers, which are key to our new gear progression system. For example:
We used our initial Class offerings (Inquisitor and Warrior) to hone in on what makes set bonuses and tactical items exciting.

PTS testers may have noticed we already applied these learnings to the Bounty Hunter (and soon on Republic Classes including Troopers), and we're making further changes to existing sets and tacticals.
New gear bonuses appearing only on the 6-piece set bonus were not satisfying, so we went back and adjusted every 4-piece set bonus in Onslaught to make them much more appealing.

As we apply level-sync to our existing Operations, we'll continue weekly refinements to improve the experience for everyone.
Also, the Nautolan subscriber reward was previously announced to be given to any player who is a subscriber on launch day. As a special thank you for all of your efforts with Onslaught on the PTS, we have decided to give the Nautolan species to everyone who is a subscriber anytime between September 1, 2019 and October 22, 2019. There has never been a better time to be a subscriber in The Old Republic and we can't wait for you to experience Onslaught with us in a galaxy far, far away!