And here I thought that the combat video was awesome enough to carry this Friday on its own. But it seems that next to the video documentary on combat we get not one, not two, but three more updates this Friday. Of course none of them are quite as awesome as the video, but still.
First there is the news that Threat of Peace has gone to print:
Great news for comic book collectors! BioWare, LucasArts, and Dark Horse Comics are gearing up for the release of a three issue comic series of Star Wars™: The Old Republic™ Threat of Peace™. Each issue features 27 vibrant full-color story pages, and will be priced at $2.99.

Experience the passions and convictions driven by a handful of Star Wars™ heroes and villains as they reignite a legendary war between dark and light in this comic series originally published entirely online. The story takes place more than three thousand six hundred years before the rise of Darth Vader, and three hundred years after the fall of Darth Malak. If you haven't seen Threat of Peace, you can check it out on The Old Republic website.

The first volume is embraced in a beautifully designed cover done by Benjamin Carré, and has a variant cover illustrated by Kai Li and Sunny Gho with art directed by Stan Zipnka from Attik. This action-packed, character-driven story was written by BioWare's Rob Chestney, illustrated by Alex Sanchez, colored by Michael Atiyeh, and lettered by Michael Heisler.

The first issue of this three-part series will be released in comic book stores starting July 7, 2010 with two other subsequent issues following monthly thereafter. Find out where you can get your hands on the Threat of Peace by visiting comicshoplocator.com or by calling 1-888-COMIC-BOOK to find the location nearest you!
With Threat of Peace now in print they're starting a new webcomic, named "Blood of the Empire":
The first issue of Blood of the Empire™ takes us to a galaxy engaged in war. The Sith Empire strikes blow after blow against a Republic reeling from the return of its ancient enemies, and the Jedi scramble to defend their holdings. But Imperial victory is far from certain…

Teneb Kel, a fiercely clever young man apprenticed as a Sith, is selected by his masters for a secret mission–a mission concerning the Emperor himself and a threat to the Dark Lord's thousand-year plan. Doomed if he fails, expendable if he succeeds, Teneb must unravel the schemes at work around him if he is to seize control of his destiny and alter the course of history.

Check out the first issue written by Alexander Freed, illustrated by Dave Ross, inked by Mark McKenna, colored by Michael Atiyeh, and lettered by Michael Heisler!
And finally today is a Fan Friday (with developer corner) as well. Next to a bunch of fan art (which you can find at the link) there's also a video showing some work-in-progress environments. I always felt that the environments in SWTOR looked quite stunning, and these previews are definitely no exception to that. I can't link or embed the video though, so you'll have to find it at the original page.
Then there's also concept art of a taxi: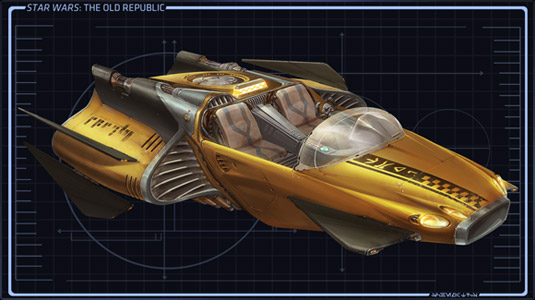 The description under the image reads: "Need to get to another part of the city to uncover some information? Catch a ride in a taxi, similar to the one in this concept art, to speed to your destination."
This could be a first clue to player vehicles, but honestly I don't think it is. I think it's probably more something similar to the transit system in Mass Effect, where you pretty much click on a vehicle standing in the environment and are teleported to your destination. At best we might get a short cutscene showing the taxi depart and arrive (think landing your ship on a planet in KotOR
).
And then they also added a couple of new forum avatars; three for the people in the Biography section and three for the stealthy Sarlacc Enforcer:
And that's everything, which I would say is plenty. Quite a rich Friday update this week indeed.