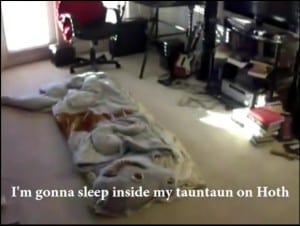 This video is fairly old and for some reason it slept under our radar. This song is for anyone who has grinded their life away in WoW and now does the same in SWTOR 😉 Check out the lyrics below the video.
I can't fight in the Ruins of Lordaeran
I'm preparing for the day we blow up Alderaan
Blow up Alderaan.
My days are over as a spellcaster
It's time for us to strike and kill the Jedi Masters
Jedi Masters
Because I know I'm going to the Dark Side….
Goodbye, goodbye, goodbye, goodbye, Azeroth
I'm gonna sleep inside my tauntaun on Hoth.
Goodbye, goodbye, goodbye, goodbye to the Horde
I'm gonna be a Sith Lord…
If I ever wanna be like Darth Vader,
I'll have to slaughter villages of Tusken Raiders
Tusken Raiders
So I won't have time to fish in Dalaran
I'll be attending the academy on Korriban
On Korriban
Because I know I'm going to the Dark Side…
Goodbye, goodbye, goodbye, goodbye, Azeroth
I'm gonna sleep inside my tauntaun on Hoth.
Goodbye, goodbye, goodbye, goodbye to the Horde
I'm gonna be a Sith Lord…