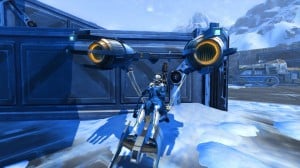 As we told you yesterday, BioWare made some big announcements yesterday. Announcements to show that they are serious about bringing new subscribers to the game and also keeping current SWTOR players happy. The first of the great news is that their Free Trial program no longer has a time limit. It will be a continuous free trial so you can download and play up to level 15 for free for as long as you want. You can play all of the game's eight classes up to level 15 for free to see what you think of them. This is similar to the perpetual free trials other MMOs offer.
Also like other games, there are some restrictions on these free accounts:
However, they will receive in-game mail such as the messages and rewards sent by NPCs after completing certain missions.
The second piece of news was about a new speeder mount for players who refer their friends to SWTOR. Bioware also released a video of the new speeder along with some information about it:
Level: 25
Quality: Artifact
Requires Speeder Piloting: Rank 1
Speed: 110%
Excellent protection against being knocked off
You can earn the exclusive Kurtob Alliance Speeder by meeting the following requirements:
Referred one or more of your friends through the Friends Trial Referral Form.
At least one of your friends purchased the game and paid for a recurring monthly subscription or redeemed a Game Time Code.
You must be opted-in to receive emails from The Old Republic.
You and your friend's account must not be banned.