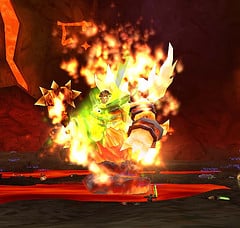 With talks about SWTOR going free to play, we also hear a lot of talk about World of Warcraft, the popular MMO from Blizzard. Many people said SWTOR might be a WoW-killer and then it turned out to have less of an impact on WoW. We can compare WoW to SWTOR until the cows come home but it's like comparing apples to oranges. While both might be fruits, an apple just doesn't cut it when you want an orange.
But what does this mean for the industry? Well, there is some interesting news about WoW release with the Q2 2012 earnings report from Activision Blizzard. This report says that World of Warcraft currently has 9.1 subscribers. This is down one million since May- pretty large numbers when you look at it.
World of Warcraft remains the reigning titan in terms of subscription-based games… but the titan is looking just a little bit leaner at the moment. The most recent subscriptions numbers for the game were released today in the Activision Blizzard earnings report for Q2 2012, and the game has dropped to a total of 9.1 million subscribers as of the end of June. For those keeping track at home, that's a loss of 1.1 million players since the last update on subscriber numbers in May.
But WoW has seen dips in subs before and they have a new expansion on the way, with a release date that was just announced last week. So maybe the numbers will shoot up with pre-orders for Mists of Pandaria.
But then maybe this dip is a vision into the future of paid MMORPGs. Is the pay to play system done for MMORPGs now? Is F2P the future of MMOs? It might be too early to say for sure but many expert analysts said that SWTOR would be the last pay to play MMORPG and with it changing its model to F2P, we have to wonder if any game will ever be able to charge players in the future.
Source: Activision Blizzard Q2 2012 earnings reportWhat are your thoughts? Do you prefer a paid game or a F2P model?