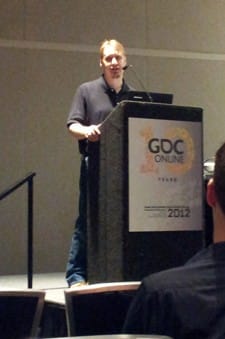 This is a spinoff of the story we just recently brought you from Gamasutra but it goes back to the original source, Damion Schubert and what he has to say about SWTOR and story as a mechanic in the game. It's definitely a different approach than other MMOs have taken at the game mechanic and we know how important BioWare places their storyline so if anyone could pull it off, we suspect it would be them.
However, I bet no one knew exactly how hard it would be to pull it off and to sell it to the gamers. At the Game Developer's Conference right here in Austin, Schubert talked about this challenge in more detail. Massively had a nice story covering what Schubert says at the conference and their own take on it.
Massively reports:
At the Game Developers Conference in Austin, Texas, this week, Schubert spent an hour explaining the thought process and development woes of taking an element like BioWare storytelling and making it work in a massively multiplayer setting. This being the first GDC Online since the launch of SWTOR, Schubert spoke frankly and openly about many of the struggles his team had to overcome to make the gaming systems work. Some of the ideas worked out well; others, not so well.
Having seen the BioWare team live in Austin myself, shaken hands with many of them and chatted face to face, I can understand how it changes your view on things from when you're just that player sitting at home in your comfy leather chair waiting to be entertained.
At this conference, he explains how his team worked hard to implement story into an MMORPG world and the many challenges they had to work to overcome. Much thought and work had to go into things like branching storylines, quest syncing and sustainability.
Read more and tell us what you think from the original story at Massively. Was he helping by sharing this much information or did he actually just reveal some weaknesses in the game?