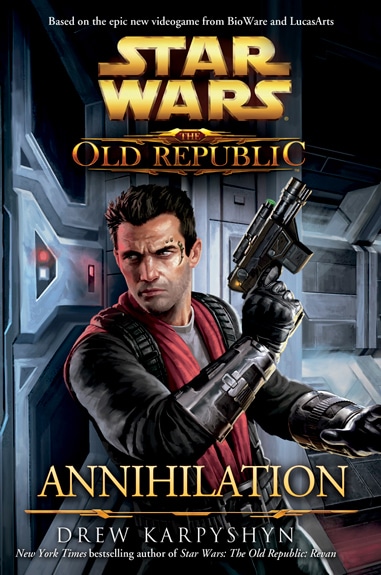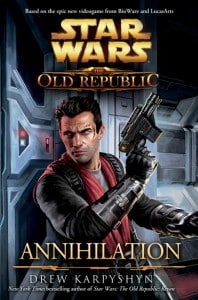 The time has finally arrived and The Old Republic Annihilation is released today!
We've been bringing you the updates as we waiting, unsure of the exact date for the book release but knowing it was coming soon. Now that day has finally arrived.
Drew Karpyshyn himself tells us a little about this story and why he is excited for its release:
I'm very excited for Annihilation to come out, because it's a bit of a different take on the Star Wars universe for me. For startes, Theron Shan – the main character – isn't a Jedi or a Sith. That's a pretty big change from characters like Bane and Revan, who are in large part defined by their relationship with the awesome power of the Force. But Annihilation also has a different feel than some of my previous novels.
The Publisher's synopsis of Annihilation tells us more about the general story:
""The Sith Empire is in flux. The Emperor is missing, presumed dead, and an ambitious Sith lord's attempt to seize the throne has ended fatally. Still, Darth Karrid, commander of the fearsome Imperial battle cruiser Ascendant Spear, continues her relentless efforts to achieve total Sith domination of the galaxy.
But Karrid's ruthless determination is more than matched in the steely resolve of Theron Shan, whose unfinished business with the Empire could change the course of the war for good. Though the son of a Jedi master, Theron does not wield the Force—but like his renowned mother, the spirit of rebellion is in his blood. As a top covert agent for the Republic, he struck a crucial blow against the Empire by exposing and destroying a Sith superweapon arsenal—which makes him the ideal operative for a daring and dangerous mission to end Ascendant Spear's reign of terror.
Joined by hot-headed smuggler Teff'ith, with whom he has an inexplicable bond, and wise Jedi warrior Gnost-Dural, Darth Karrid's former master, Theron must match wits and weapons with a battle-tested crew of the most cold-blooded dark side disciples. But time is brutally short. And if they don't seize their one chance to succeed, they will surely have countless opportunities to die."
If you'd like to learn more about it, there a review over at Lightsaber Rattling that's worth the read. A snippet:
What would happen if you combined James Bond, Sterling Archer and Lobot? You would probably get someone like Theron Shan. Shan is a reckless yet effective secret agent with a unique set of cybernetic implants on his head and some fashionable but deadly bracers (wrist mounted weapon platforms) on his arms.
And remember, if you're going to order your own copy, you can help out Drew by ordering direct from his website. Drew says on his blog:
You can buy it by clicking on the links from my NOVELS page, or by clicking the links here for Kindle, Audio, or apple ibook formats and through Barnes and Noble in hardcover and Nook formats.
Have it already? Tell us what you think (without spoilers) in the comments!