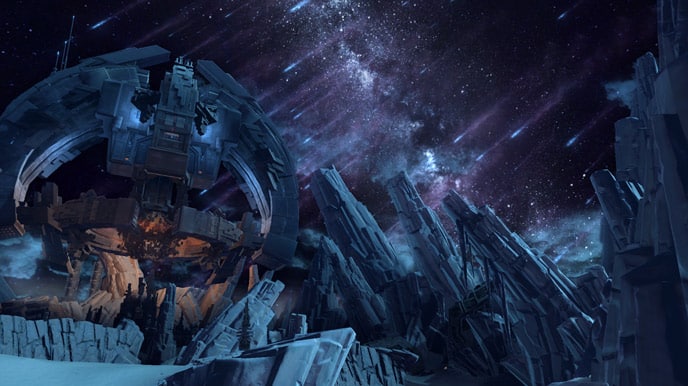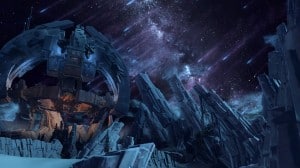 BioWare has announced the next game update today- date to be determined and like other game updates, it comes with a new event, new quests and new items.
GET READY TO HELP THE GREE – YOUR PROWESS WILL BE GREATLY REWARDED!
The new game update 1.7 is called "Return of the Glee" and will allow you to play with other Level 50 players or journey alone to assist the Gree in their continual pursuit of information. Rewards will be available to those "brave enough" to help the Gree.
We also noticed there is cartel option to up your reputation gains in the upper right corner. It also looks like they cap your rep gain per week so you can't grind it all out quickly.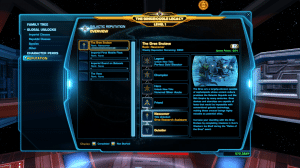 From SWTOR news regarding the new game update:
NEW RECURRING EVENT: RELICS OF THE GREE
Explore Ilum's contested area in the Western Ice Shelf to uncover the mysterious purpose of the Gray Secant, an enormous ancient Gree starship.
Get ready to face a powerful opponent that awaits you at the center of this ancient vessel.
Earn exclusive Gree technology, including highly-advanced weapon and armor!
Look for opportunities to join this recurring event throughout the rest of the year. More details to come!
NEW SYSTEM: GALACTIC REPUTATION
Check out an all new exciting way to progress your character.
Advance through six ranks of increasing prestige: "Outsider", "Newcomer", "Friend", "Hero", "Champion", and "Legend".
Earn Reputation Points by completing missions for allies such as the Gree and the Voss, or for military divisions within the Republic and the Empire.
Galactic Reputation is tied to your character's Legacy, so enjoy earned Reputation Points and ranks across all characters in your Legacy!
Remember, events are available to Free-to-Play Players and Subscribers at no additional cost. Visit the Free-to-Play Features Chart for more information.
What do you think? Excited for the new update? Sound good? Anything you want to see added that's not announced yet?
You can read more on the official page for game updates.