You all knew it was coming, so here it is baby.
The Harlem Shake has come to SWTOR!!!
A few have tried, but this first video does it perfect! The second video comes real close. They just didn't get the beginning done right. Which is supposed to show only one person dancing while every one is minding their own. But it's still a superb job, and the beginning is still pretty cool. I'm sure many more are on their way, so keep an eye out for them!

Con lo Terrori[s]ta!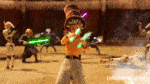 Don't forget to set it at 1080p for best audio and video quality. If you have audio enhancers, set them for total chaos!
Props and respect to Logan and DkSharktooth for doing a great job!