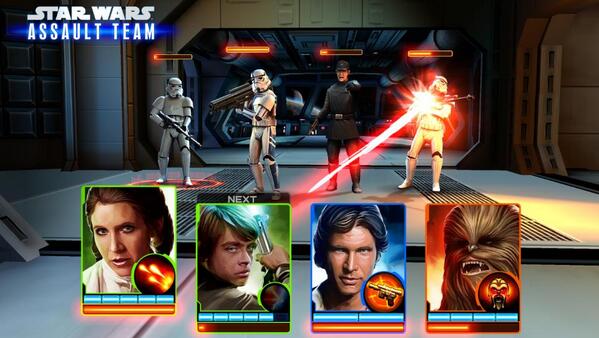 Lucasfilm just announced  via the official Star Wars Twitter account, a new Star Wars video game coming to iOS, Android, and Windows 8 devices. The game will be  titled 'Star Wars: Assault team, and is due  for a release sometime this spring.
Prepare your mobile devices! Star Wars: Assault Team is rolling out for #iOS, @Android & #Win8 devices this spring. pic.twitter.com/UoW9yHYH5P

— Star Wars (@starwars) January 28, 2014
It's unknown who the developer of this game is, but this is the second game Lucasfilm and Disney announced since Lucasarts was shut down. The fist game was Star Wars: Attack Squadrons that was announced back in December. While EA have the rights to all Star Wars video games for console and computers Disney can develop own Star Wars games or licencing them out on other platform.