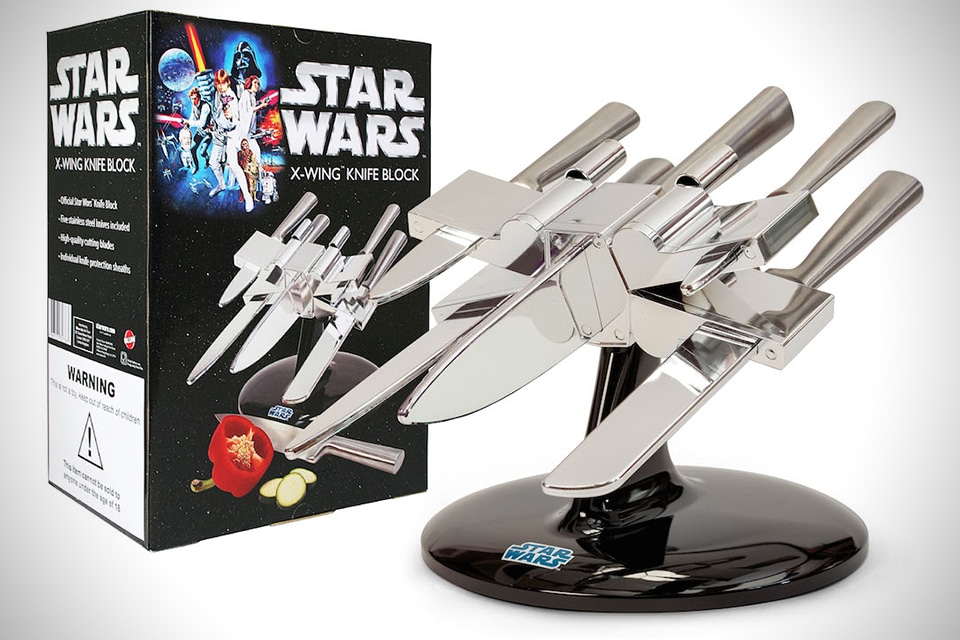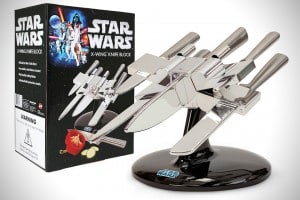 So if you're looking for something to get me for my birthday, look no further. Seriously, for Star Wars fans, this is pretty cool. We love finding and sharing this kind of stuff with you. If I had this X-Wing, I would use it as a collector's piece for display only. I really don't think I could bring myself to actually use this for anything. It's far too beautiful.
But it's pretty darned cool! And it will make a fantastic gift for the Star Wars fan in your life or for your own personal collection.
You can order this from The Fowndry but it's not available until around August. You can get your preorders in and ensure you get yours.
It comes with:
• Cook's knife: 8″ (200mm)
• Bread knife: 8″ (198mm)
• Carving Knife: 9″ (225mm)
• Utility knife: 5″ (122mm)
• Paring knife: 3.5″ (85mm)
Take a look at their full description:
Here's an idea we just made up – lightsaber bread knives. They'd slice and toast at the same time! Someone get Lucas on the phone. In the meantime, here's a great new way to brighten up your kitchen counter.
The Star Wars X-Wing Knife Block gives your regular old kitchenware a rebellious kick in the vegetables. Storing five high quality stainless steel knives, this officially licensed holder looks glorious from any angle.
Chrome finished and standing over 20cm high, the X-Wing Knife Block raises the status of the humble knife holder. Heck, with this in the kitchen even Aunt Beru would be signing up to give the Empire one in the eye. And as for the Force? Well… it's useful. But can it chop an onion, dice peppers, and slice a loaf? Can it? We'll ask George, as soon as he picks up."
You can also check out the full specs and details on their product listing. I'm not sure the knives are chef-quality but really, who's going to be cooking these bad boys anyway? Nope, it's all about the collecting.
And if you're going for the knife set, you might want to pick up these awesome light saber grill tongs while you're at it!