Star Wars The Old Republic 14,500 Cartel Coins + Exclusive Item [Online Game Code]
If you are looking to get some cartel coins, it's always better to buy in bulk. Now EA has put out a deal that you don't want to miss. It was just released at the end of September and we don't know if it will be permanent or something they only offer for a short time but it does come with a cool, unique, exclusive in-game item.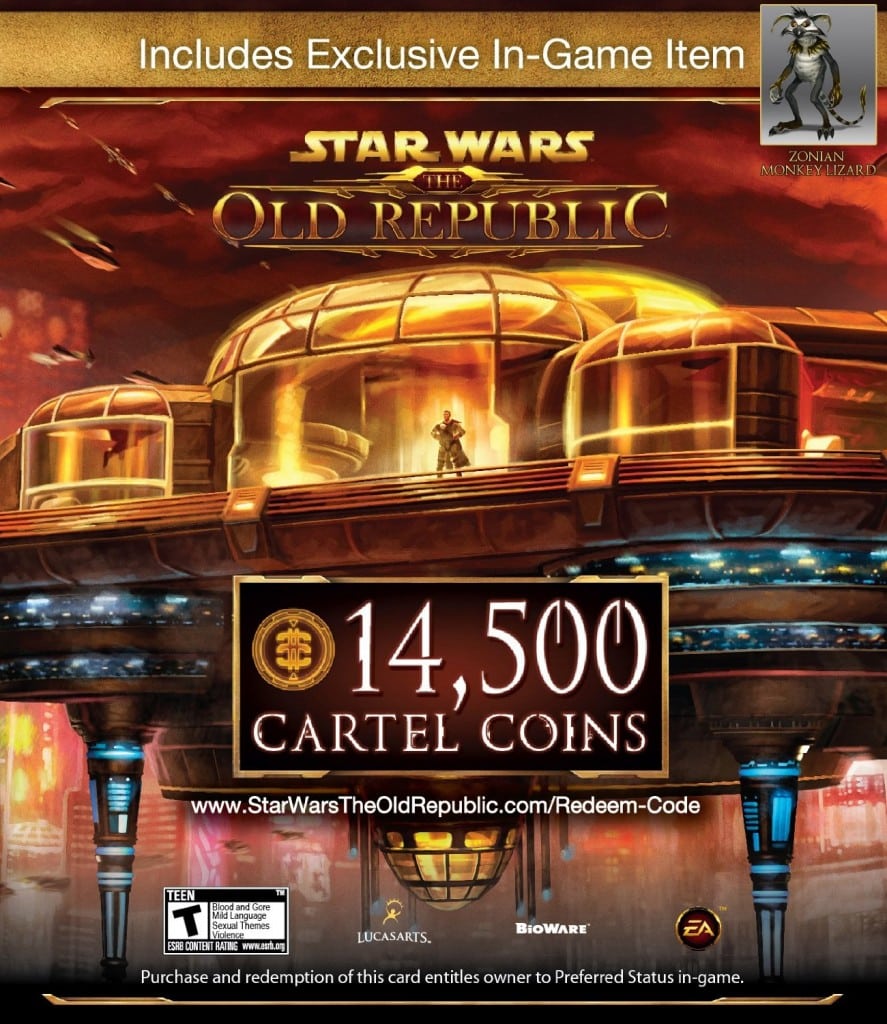 2400 coins is $19.99
5500 is $39.99
So this special deal for 14,500 coins is $99.99.
$100 is a lot to spend in a game but think of all you can get or do with those Cartel Coins + the special item!
Unfortunately, it's US only (unless you have a work-around) and it's a digital code only and there is no gifting option.
From Amazon's Product Description:
The Star Wars: The Old Republic 14,500 Cartel Coins Card offers gamers a great value when purchasing Cartel Coins. Use Cartel Coins, the virtual currency in Star Wars: The Old Republic at the in-game Cartel Market to purchase gear, experience boosts, vanity items and item packs of rare goods! The code on the card is redeemed on www.swtor.com/redeem-code and upon redemption immediately adds 14,500 Cartel Coins to the player's game account.
Star Wars: The Old Republic is the only massively-multiplayer online game with a Free-to-Play option that puts you at the center of your own story-driven Star Wars saga. Play the complete story-driven adventure all the way to Level 50 for free with some restrictions or enjoy unlimited game access as a Subscriber. To find out more, visit www.StarWarsTheOldRepublic.com/free.
KEY INFORMATION:
The Amazon 14,500 Cartel Coins Card comes with a unique in-game item.
Key Redemptions receive an Amazon exclusive in-game mini-pet, Zonian Monkey Lizard
Purchase of Cartel Coins online or at a participating retailer gives you Preferred Status offering enhanced movement, chat, trading, and item storage in-game. More info available at www.swtor.com/free/features.
Cartel Coins cannot be used to purchase subscription time. Choose from a variety of subscription plans online at www.swtor.com/buy or purchase a 60-day Pre-Paid Game Time Card from Amazon.
Cartel Coins Cards also make a wonderful gift for Star Wars: The Old Republic players!