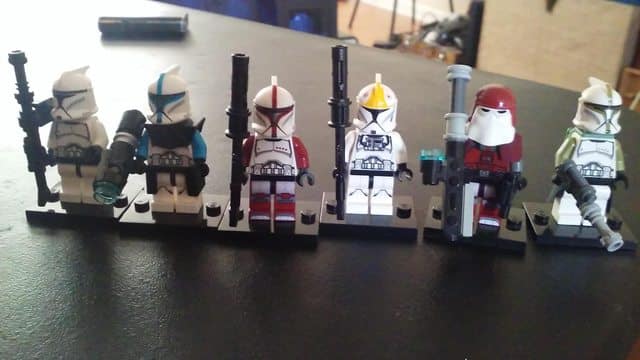 Okay, regular readers know what a big LEGO fan I am. There are few things I love more than LEGO Star Wars so I found this pretty cool and had to share it with you. You can see from the images below that another fan created some Star Wars Battlefront classes out of minifigs. They're pretty spot on with what the real classes would look like and the builder had a fine eye for detail when it comes to getting these right.
Here we have seven images that depict the Star Wars Battlefront classes. There's the Clone Trooper, Heavy Trooper, Sharpshooter, Engineer, Clone Commander, and Jet Trooper. The Jet Trooper's gun isn't exactly spot on since it should be a little bit wider but we think he did awesome with what he had to work with.
You could probably also do Rebels and Stormtroopers if you wanted and had all the parts and mini figurines to work it out. You might have to get creative with certain parts or even print some out and use paper construction to add pieces (this is a little trick my kids like to do) but it could definitely work.
What figures would you like to see from Star Wars LEGO. If LEGO did an official Battlefront set, would you buy it?
If you're a combined Star Wars and LEGO fan like me, do you use your sets solely for display or do you play with them too? Are you more into the building process or the completed look once done?