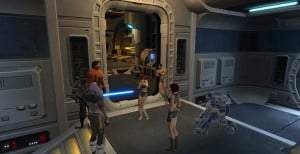 SWTOR game update 1.3 is coming. Are you ready? The latest patch will hit the test servers very soon and lead designer Daniel Erickson and technical design director Emmanuel Lusinchi have some info for us to help us get prepared.
The peeps over at ZAM have a really great article and interview that tells us many of the things we can look forward to such as unlimited free trial (for certain levels) and a new weekly world boss with missions coming in 1.3.
Here's more:
Game Update 1.3 – Allies – introduces a strong blend of tools intended to make forming groups much easier, along with even more ways to customize how we play. Currently undergoing internal testing, the update should be available on the public test server soon and live later this summer.
Here are some things the update will have:
Game Update 1.3 includes a group finder to bring down the time and effort involved in creating groups. Characters will be teleported to the entrance of the adventure once the group is assembled, and a vote to kick mechanism will be included to remove undesirables. This tool won't be cross-server, as the team is eager to preserve server communities.
The full 2-page article with video also tells us more about customization features we can expect, additions to the Legacy system and more. Legacy perks are coming and the article also touches on what we can expect from SWTOR beyond 1.3.