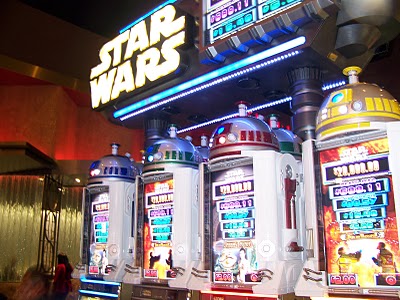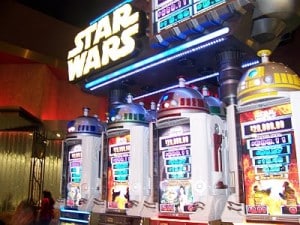 IGT's Star Wars slots manage to incorporate the excitement of this iconic space- themed series with some of the best graphics and rewards seen in a casino slot game.
If ever there was a time to reach for the stars with a great slot game, this is it. The iconic sci-fi Movies Star Wars comes alive on the casino floor with the game of slots. The game has become a huge hit for players in Vegas and across the world where IGT's slot games star, and manages to attract hordes of fans who enjoy combining their love of slots with this legendary space opera series which has spawned a media franchise incorporating books, films, TV shows, computer games, comic books and now, casino games.
Star Wars slots features all the favorite characters that fans of this series know and love, including Chewbacca, Yoda and Hans Solo. The graphics, as can be expected from a software giant such as IGT, are second to none and the game incorporates video clips from the original movie for a seamless transition from film to slot.
But it's not only the graphics and great sound features that attract players to Star Wars slots. The game is jam packed with exciting bonus features including a game which requires the player to levitate objects in a nasty swamp in order to grab some great rewards. This bonus game requires the use of Jedi skills, and Star War fans will be thrilled to show off their strength!
Another reason for its popularity is no doubt the reward factor. Star Wars slots boasts a megajackpot which is seeded at a cool $1 million, and continues to grow each time players direct funds to its progressive jackpot. To win the jackpot, players need to wager the maximum number of coins. Star Wars slots are available in a number of variants, ranging from penny slots to 25c slots, making it suitable for all sized bankrolls.
For a casino experience that is truly out of this world in more ways than one, try IGT's Star Wars slot on the casino floor today.