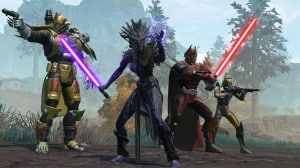 Have you ever wondered where politics come into play in SWTOR? Most Star Wars fans are aware of political and moral undertones in the series which then transcend into all versions and variations of the original story- SWTOR included. But here is a very interesting survey by the National Science Foundation that will shed some more light onto the issues of politics and morals in SWTOR.
From New World Notes:
Click here if you play Star Wars: The Old Republic to take a short and fascinating (in my biased* opinion) survey on the MMO's political and moral choices, and how they relate (if at all) to your real life values. It's for a report funded by a US government grant from the National Science Foundation which seeks to explore ways in which MMOs "provide experiences of meaningful accomplishment and how this engagement may portend the social use of digital technology for mass persuasion and motivation". So for example, if you roleplay as a Sith Inquisitor on the quest "Interrogate Alif" (pictured above) the survey asks if you tortured the prisoner (one of the options), and later asks your opinion on the use of forced interrogation in real life.
The research is led by Robert Geraci, Associate Professor of Religious Studies at Manhattan College and this is how he describes the purpose:
""For the purposes of this paper on SWTOR, we want to know how players use the game as a way of grappling with political thought. In keeping with this, we have this new survey online to help us sort out how contemporary moral and political issues are engaged in game settings, and how gamers see the settings as different from or similar to real life. There have been a number of public criticisms of gamers recently, including of SWTOR's players, that imply or directly state that players do horrid things in them as a result of malicious intent. This seems unlikely to us, and we want to know how players of SWTOR see good and evil in the game, and what relationship that has to good and evil outside of the game. That will help us learn how the game contributes to meaningful political practice even though it remains 'just a game."
So click here to take the survey. Let us know what you think and stay tuned for an update on the findings once they go public (since it is government-funded, the results will have to be public).
If you've taken the survey, what do you think about the questions? What kind of results do you predict to come from these questions and this experiment?