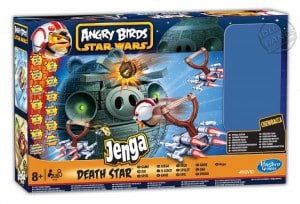 There have been a lot of rumors going around for a few weeks now about Star Wars Angry Birds but now they're finally here with some official info and even some pictures. We're finding details around the Web about the new Angry Birds line of products from Hasbro and Rovio featuring a Star Wars theme.
Some of the items include:
Star Wars Angry Birds Jenga Death Star – This one is supposed to have an exclusive Chewbacca figure!
Star Wars Angry Birds At-At Attack Battle Game – Not much more to say about this other than it looks awesome. It looks like a Lightsaber bird launcher and an At-At with holes for pigs to hide in and a platform to build your collapsible construction. It comes with 12 figures: Birds featuring an X-Wing Pilot, Han Solo, Hoth Rebel, and exclusive Luke Hoth Rebel, and Pigs featuring Darth Piggy (not his name but I like it), At-At Driver, 2 Stormtroopers, 2 Snowtroopers, an exclusive At-At Commander and an R2 egg.
Star Wars Early Angry Birds Figure Pack- Includes Chewbacca, Princess Leia, Luke Skywalker and R2-D2. This one also has a Lightsaber launcher and two blocks.
There's even going to be a Star Wars Angry Birds Plush line!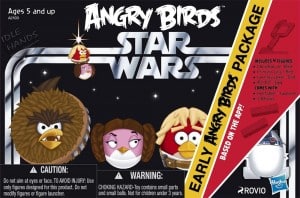 Head on over to the Idol Hands blog for an extensive breakdown and the full reveal at NYCC next week. The reveal was set to be Monday (October 8th) in Times Square, but if you are Star Wars obsessed, then you're ready for it now and that's just what they gave us!
If you love Star Wars and you love Angry Birds, this is going to be an amazing match up for you. Have you seen them already? Let us know what you think!