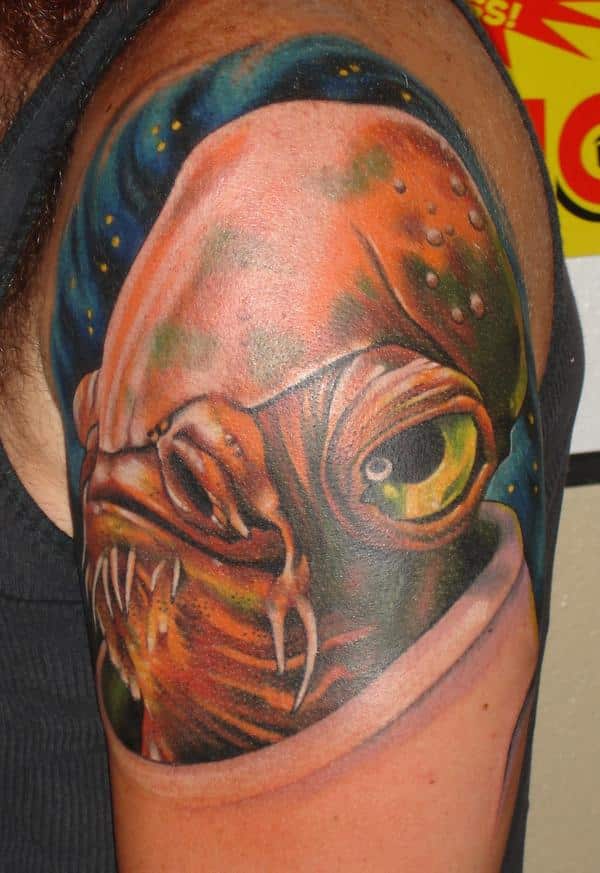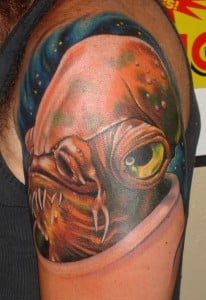 Today Tuesday, November 13 at 10 PM, ET/PT, nine remaining artists on Spike TV's hit tattoo competition-reality series "Ink Master" will have to use their Jedi powers and feel the Force flowing thru them in a special "Star Wars" Forever episode.
In this "Star Wars"-themed episode, the artists will be tested on their ability to use contrast in their designs, specifically the way they enhance dark and light areas and use opposing colors, forms and lines to make their tattoos bold.
As always, "Ink Master" starts off with a fundamentals skill test called the Flash Challenge. In this week's Flash Challenge, the artists must create a unique design using contrast on a Clone Trooper Helmet. All the finished helmets were displayed and auctioned off at "Star Wars" Celebration Six with all proceeds going to the Make-A-Wish Foundation, and as an added bonus, the winning Clone Trooper helmet was signed by "Star Wars" creator and visionary, George Lucas.
All the human canvases for the Elimination Tattoo for this episode are all super-fans of "Star Wars" and all request various designs featuring the iconic characters and symbols from this epic saga. The artists again have to demonstrate their ability to use contrast in their "Star Wars" tattoos. Which of the artists will continue on their destiny to become the next "Ink Master" and who will be the next to be told to pack up their tattoo gun and go home?
Season 2 of "Ink Master" launched on October 9 with sixteen contestants. Each week on "Ink Master", artists compete in various tattoo "Flash and Elimination" challenges that not only test the artists technical skills, but also their on-the-spot creativity, where they must create and execute an original design and/or tattoo on a human canvas. After every challenge the contestants face a tough panel made up of Dave Navarro (Jane's Addiction), renowned tattoo artists Chris Nunez (Miami Ink) and Oliver Peck (Elm Street Tattoo) and a roster of guest judges. Each individual artists work is critiqued and one contestant is sent home. The masterpieces these artists create will last forever, but so will their mistakes.
Ink Master's premieres weekly on Spike TV on Tuesday nights from 10:00 – 11:00 PM, ET/PT. Spike is a national cable network, a division of Viacom Media Networks, and is available in more than 99 million US households.
Fans of "Ink Master" are invited to logon to inkmaster.spike.com for weekly sneak peek clips of future episodes as well as information on and tattoo artwork from all the contestants and to join in the conversation on Twitter @SpikeTV using the hashtag #InkMaster.