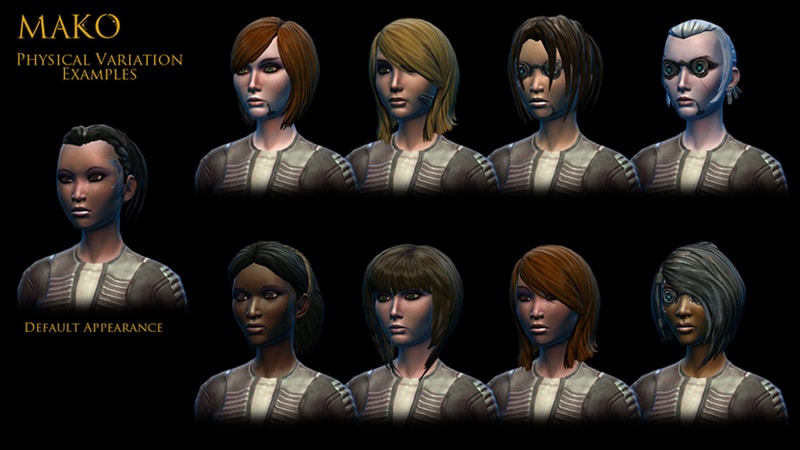 BioWare has brought us the latest Companions 101 installment and this time, it's all about Mako! I'm a fan of the bounty hunter myself so I've been looking forward to this one. If you want to learn more about Mako and her backstory, then you will enjoy this Companions 101. Just remember, there are spoilers in these!
Here's a snippet:
"So how do you want to spend the credits?"
Welcome to our latest blog in our Companions 101 series. If you missed our previous blogs, I am Courtney Woods, Community Production Specialist, and I will be your guide as we learn more about the Companions of The Old Republic™! This series is meant to supplement our Companions HoloNet Page and provide insights, background information, and tips for the featured Companion. We will be rotating between Imperial and Republic Companions. Our last blog featured Trooper Companion, Aric Jorgan, so we are returning to the Empire to focus on the slicer, Mako, as requested by your comments in our previous Companions 101 threads. You can post your suggestions for Companions to be featured in our next blog in this official forum thread as well as on Twitter, Facebook, and reddit.

Please Note: This blog contains spoilers for the Bounty Hunter class story.

Meeting Mako

Despite her energetic and upbeat attitude, Mako's life hasn't always been easy. She grew up on the streets of Nar Shaddaa without any idea who her real family was or how she received her cybernetic implants. Because of these implants, Mako has a constant connection to the Galactic HoloNet. At a very young age, she showed great skill in computers – particularly slicing. After finding out that the Red Light Orphanage she belonged to was going to sell her, Mako used her skills to crash their accounts and escaped to the streets. She had to become street-smart quickly to survive and it wasn't long before she was moving up the ranks in some of the moon's most infamous slicer gangs.
Read the full article here.