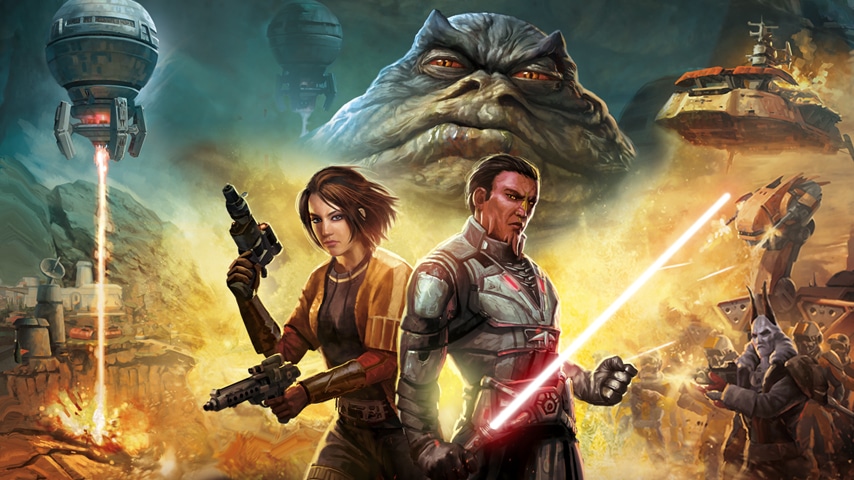 It's official! Star Wars: The old Republic Rise of the Hutt Cartel is to be released on April 9  – or at least the early access for people who have pre-ordered the game get's access to the game that day. Everyone Else will get access april 14.  The internet has been busing all day with news and interviews about this, and we will have a write up  on Interviews & Information later today.
With the news about the release date, BioWare also released the seccond part of the developer dispatch: Making of: Rise of the Hutt Cartel. Check it out below, and check out the official BioWare announcement below that.
We're thrilled to announce the launch date of Sunday, April 14, 2013, for the release of the first Digital Expansion: Rise of the Hutt Cartel. Introducing five new levels of gameplay and the vibrant new planet of Makeb, Rise of the Hutt Cartel will be available for download beginning April 14 or for players who qualify for Early Access*, beginning April 9. To start the download, simply log in to the game and click Play.

If you pre-ordered the game on or before January 7, 2013, your five days of Early Access starts Tuesday, April 9, 2013. At the same time,Game Update 2.0: Scum and Villainy will also go live, providing you with exciting new Level 55 content, Legacy Achievements, and more.

If you haven't pre-ordered yet, it's not too late to receive exclusive pre-order rewards**, including the Makrin Seedling Mini-Pet, the Dr. Oggurobb Hutt Holostatue, and a unique title, "Scourge of the Hutts". This pre-order offer expires on April 13, 2013 at 4:00PM PDT / 11:00PM GMT, so don't wait!

Check out the Making of Rise of the Hutt Cartel Part 2: Conflict on Makeb video to unravel the storyline behind the new planet Makeb.

To pre-order Rise of the Hutt Cartel, visit www.StarWarsTheOldRepublic.com/RiseoftheHuttCartel.

Stay connected to www.StarWarsTheOldRepublic.com or find us on Facebook, Twitter, and YouTube!