The guys over at BioWare Austine has announced that the upcomming Game Update 6.1.2 for SWTOR and the "All Words Ultimate Swoop Rally" event will launch a week apart with the patch coming first on 24th of June
In the growing shadow of war, swoop fans across the galaxy descend on Dantooine, Tatooine, and even Onderon for the sport's biggest spectacle—The All Worlds Ultimate Swoop Rally! They're packing the stands, eager to take their minds off their troubles and cheer their favorite swoop gangs. The bikers are here to take on dangerous challenge courses, show off their piloting skills, and flaunt their souped-up swoop bikes. The thunder of the engines, the deafening applause from the fans, the wind battering their helmets… there's no bigger rush for these thrill seekers.
Despite their reputation as wild rebels whose makeshift courses disregard local districting restrictions, swoop gangs aren't a serious threat to anyone–something all true swoop fans know! They just love adrenaline-pounding speed, sweet jumps, and big explosions, and the All Worlds Ultimate Swoop Rally combines all three in one crowd-pleasing package. The biggest gangs on the circuit — Horizon's Razor, the Pit Screamers, and the Blatant Beks — are ready to show their fans a great time.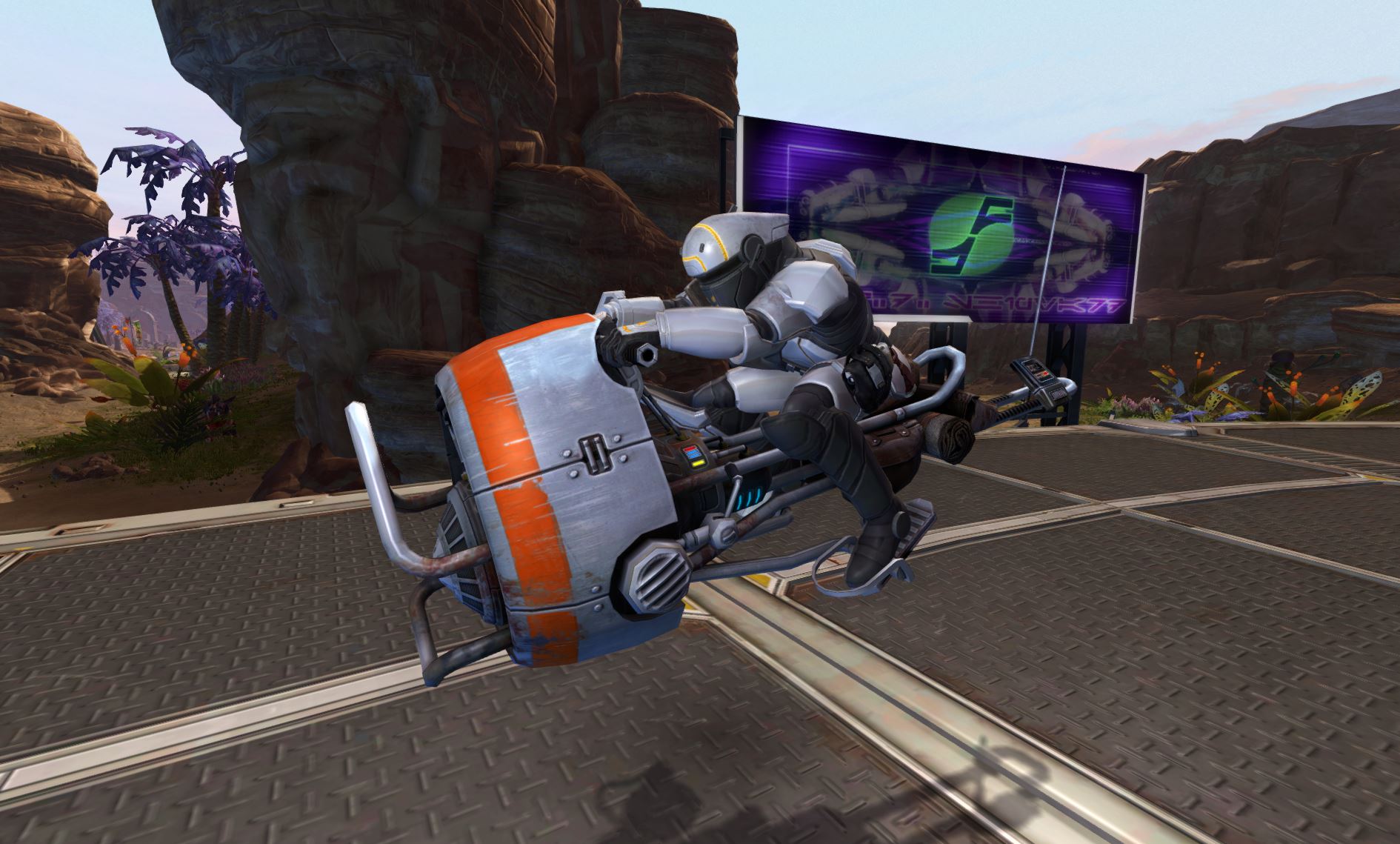 Event Gameplay
The gangs are always looking for new enthusiasts to join their ranks, and there's no better time to see if you've got what it takes. Each gang is impressed by different aspects of swoop biking: Horizon's Razors love speed, the Pit Screamers can't get enough of big jumps and smooth piloting, and the Blatant Beks just want to see things blow up (from a totally safe distance, of course).
Each gang has a repeatable Daily Mission for the courses on Dantooine, Tatooine, and Onderon. When you accept a swoop Mission, you'll hop on one of the gangs' special bikes and use its abilities and lightning-fast speed to take on challenges suited to each gang's tastes. That's not all, though; each planet features its own dangerous hazard, turning up the challenge on the courses. Hit all the course objectives, and the crowd's going to love you!
Outside these repeatable challenge courses, you'll unlock three story Missions for each gang as you progress through their reputation tracks. The more they trust you, the more you'll become part of the inner circle, learning more about each gang, their history, and some of their highest-profile members. These short, but fun, interludes highlight your induction into the thrilling world of swoop.
And that's not all! You'll also find bonus Missions and plenty of achievements to hunt during the event. Starting at level 20, you'll be able to participate in the All Worlds Ultimate Swoop Rally. Level up to gain access to Onderon, and every swoop mission will be available to you!
Rewards
Of course, no real rally would be worth its salt without exciting rewards, and the All Worlds Ultimate Swoop Rally aims to please. Each gang has its own reputation track and unique rewards, detailed below:


The All Worlds Ultimate Swoop Rally will be available with Game Update 6.1.2 on June 24th!