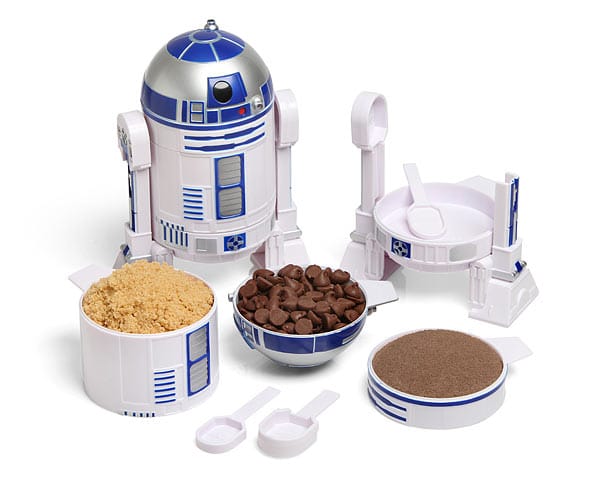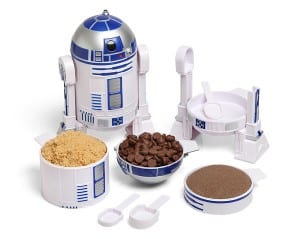 Of all the products we got from the very generous ThinkGeek to review, this one is the one I was most excited about. Before I even knew we were going to get it to review, my friend had shared it on my Facebook wall and I knew I wanted to get it. She knows I'm a Star Wars fan and often tags me in all things Star Wars themed. I don't mind, of course. But this one stood out to me more than others and I'm not even that big of a cook, really.
In fact, if you're not big on kitchen duty, this might even inspire you to spend some more time in there mixing and measuring things up. My thoughts? It looks really cool and I will probably display it more than I use it. However, if you do plan to use it, it works great. Just don't microwave it and don't put it in the dishwasher. You're going to need to take care of R2-D2 by hand to keep him in good condition. It's easy to use and easy to disassemble. They also measure up (tee hee) in terms of sizing. The cups were all spot-on with my normal measuring cups.
From the Product Description:
One of the fun things about using these R2-D2 measuring cups is that you get to play like you're a Jawa. See, you found this droid, and in order to make it useful, you're going to have to take it all apart. Utinni! But NOT with your ion blaster. Sorry. And we recommend an apron for the kitchen vs. those brown robes with the potentially flammable cuffs.

This set of R2-D2 Measuring Cups disassembles into 4 measuring cups plus 4 measuring spoons and reassembles in a snap (fortunately, it's not as complicated as C-3PO). Each has its measurement written inside so you can't forget what they are and handles on the back that don't distract from R2's aesthetic. The only problem we can foresee with these is that if you show somebody else your R2-D2 Measuring Cups, you may have to install a restraining bolt to keep them from wandering off.
Product Specs:
Set of measuring cups that look like R2-D2
Officially-licensed Lucasfilm merchandise
A ThinkGeek creation and exclusive!
Body built from 4 measuring cups: 1/4, 1/3, 1/2, and 1 cup
Detachable utility arms turn into nested measuring spoons: 1/4, 1/2, 1 tsp, and 1/3 tbsp (bakers will see wut we did there)
Dome is both 1/2 cup and 1 tbsp
Materials: Food-grade ABS plastic (BPA-free)
Dimensions: 6 1/2″ tall x 5″ across x 3 3/4″ deep
Do not microwave
Not dishwasher-safe
Have a look at this diagram that shows the removable parts in more detail: