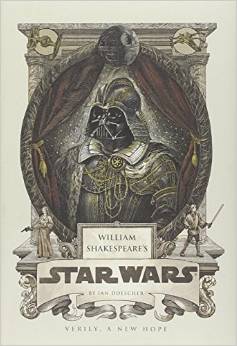 Return once more to a galaxy far, far away with this sublime retelling of George Lucas's epic Star Wars in the style of the immortal Bard of Avon. The saga of a wise (Jedi) knight and an evil (Sith) lord, of a beautiful princess held captive and a young hero coming of age, Star Wars abounds with all the valor and villainy of Shakespeare's greatest plays. 'Tis a tale told by fretful droids, full of faithful Wookiees and fearstome Stormtroopers, signifying…pretty much everything.
Reimagined in glorious iambic pentameter—and complete with twenty gorgeous Elizabethan illustrations–William Shakespeare's Star Wars will astound and edify Rebels and Imperials alike. Zounds! This is the book you're looking for.
What would Star Wars sound like if William Shakespeare wrote it? Well, that's a mighty fine question, especially for a fan of both Star Wars and Shakespeare like myself. It's fun, it's funny and it also would make a great gift idea for someone on your list. William Shakespeare's Star Wars (Verily, A New Hope) is a non-canon book by Ian Doescher.
See what other reviewers are saying:
"Ian Doescher has reimagined the entire first Star Wars film as an Elizabethan play, complete with iambic pentameter and elaborate illustrations. It's geekception."—The Mary Sue
"…the book is so brilliant you'll wonder why someone didn't think of it sooner."—Paste Magazine
"..another smart tribute fans will enjoy."—The Star-Ledger

"If you are looking for a neat way to get acquainted with Shakespeare or you are a teacher whose students are having a rough time accessing the genius of the Bard of Avon, I highly recommend you give William Shakespeare's Star Wars a try!"—GeekMom
"Is it all a great, geeky, inter-galactic goblet of literary fun? Verily!" —AmericanProfile.com
"…a quirky addition to the genre-busting canon…"—Entertainment Weekly
"…what Doescher made is delicious."—Charleston City Paper
"…brilliant…"—Deseret News
"This is a great read. Author Ian Doescher may not have bested Shakespeare, but he's certainly one-upped Lucas."—Asbury Park Press
Here is an excerpt:
It is a period of civil war.
The spaceships of the rebels, striking swift
From base unseen, have gain'd a vict'ry o'er
The cruel Galactic Empire, now adrift.
Amidst the battle, rebel spies prevail'd 5
And stole the plans to a space station vast,
Whose pow'rful beams will later be unveil'd
And crush a planet: 'tis the DEATH STAR blast.
Pursu'd by agents sinister and cold,
Now Princess Leia to her home doth flee, 10
Deliv'ring plans and a new hope they hold:
Of bringing freedom to the galaxy.
In time so long ago begins our play,
In star-crossed galaxy far, far away.
Author Biography