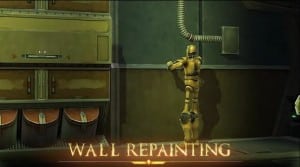 You thought BioWare had already given you just about everything you could do in a game but there was one more thing we were missing-
BioWare posts:
Cruising around the galaxy in your own personal starship is an important aspect of Star Wars™: The Old Republic™. The player's starship is like a home, and the player's companions are like a family. No one knows this better than the dedicated Ship Droids who maintain the vessels: C2-N2 for Republic characters and 2V-R8 for Imperial characters.

Jedi Knights, Smugglers, Bounty Hunters and the other class characters may be the heroes in the wider galaxy, but on board the starship, the Ship Droids are the heroes. That's why, as part of Game Update 1.2, you will soon be able to assume direct control over your Droid's actions with Ship Droid™, a brand new mini-game coming to The Old Republic!

Features of this mini-game include cleaning the cockpit windows, calibrating the ship's food processors, and several other exciting maintenance duties:
Ok, who doesn't think this sounds awesome? It has all the elements you'd expect from a game by BioWare (or a game inside a game, in this case). There is an etiquette points system, because where would C2-N2 be without his manners, right? You get to experience firsthand all of the exciting things your ship droid does when you're away.
There's even a video to tell you all about it.
Sounds like BioWare has a really exciting fun new mini game for SWTOR – or maybe a very elaborate April Fool's joke… :p